Movavi Video Converter Review & Download (Mac & Windows)
Movavi Video Converter is fast video conversion software for Mac and Windows. The software has many options which simply make it easy to quickly edit a media file and convert it to some other format.
The software is not only for video conversion. In fact, users could convert audio, video and image files to over 200 file formats. The converter program has also some video editing tools which could be handy at some situations. It also could be used to enhance the video quality to make the clip prepared for the conversion.
Features
Editing options – If your video needs some basic video editing such as crop, trim, rotate, adding watermarks and captions, etc. then there is no need to do that using other applications. Simply do the editing using this great video converter, and then convert the final project to your favorite video format.
Full video formats and mobile devices compatibility – the software supports almost all main video formats including MP4, AVI, MPEG1/2, FLV, MKV, MOV, 3GP, VOB, and so on. Also, many users prefer to save their files so that they will be compatible with specific devices. The application could easily convert videos for more than 200 devices such as iPhone, iPad, Samsung Galaxy, Google Nexus, Sony PlayStation, Microsoft Xbox, and Android powered phones and tablets. It supports Full HD video clips as well.
Fast conversion – Based on the tests done by the Movavi, the software could convert video files up to about 80 times faster than some other competitor products. Multiple video files could also be converter at the same time via this program.
Creating GIF files – Movavi converter could easily be used to create animated GIFs. All or some parts of the video could be selected for GIF conversion.
Online sharing – The 'Share Online' app inside the application enables users to directly upload the output videos to social media websites with no hassle.
Ripping DVDs – Movavi converter software enables users to save DVD videos on their hard drives by ripping them.
Graphic cards support – NVIDIA and Intel hardware acceleration features of the Movavi application makes it able to do the conversions even faster – up to more than three times.
Audio extraction – Users who want to create music samples or ringtones could use this video converting software to extract audio and soundtracks from movie files and video clips.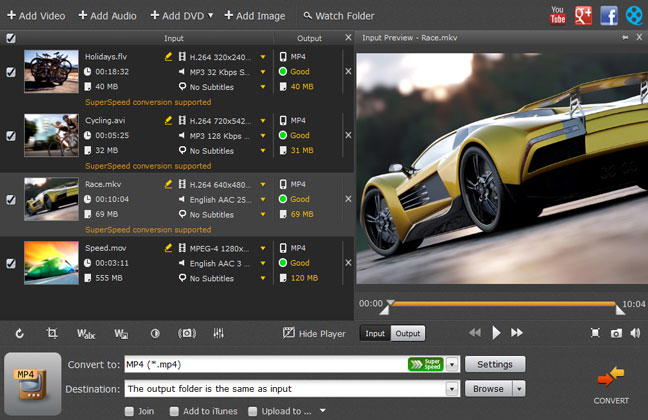 Download & pricing
Movavi Video Converter software is available for both Mac and Windows systems. The software doesn't require lots of software or hardware resources. But just make sure your system got the minimum requirements:
Mac users should have at least version 10.6 or higher of Mac OS X, 128MB of RAM, 64-bit processor (Intel), about 1GB free space on their hard drive for installation and software functions, and screen resolution of 1024×768.
The software could be installed and run on Windows systems from Windows XP to Windows 10 (with patches and service packs installed). Following requirements should be met: 1GHz AMD or Intel processor, 256MB-1GB of RAM (based on the Windows version), screen resolution of 1024×768, and about 1GB of hard disk space for the application installation and running.
Both versions cost about $40, but you could download a free trial version from Movavi website.