Malwarebytes Anti-Malware Review & Download (Mac, Windows & Android)
Malwarebytes Anti-Malware is one of the most downloaded and popular malware, spyware and adware remover programs on the Internet. This Malwarebytes security software could be installed on different platforms with different operating systems such as OS X, Windows and Android.

Malwarebytes Anti-Malware for PC (Windows)
Windows based computers are more affected by various kinds of online threats including malware and spyware. The main reason for that is the higher number of computers running on Microsoft operating systems.

Malwarebytes Anti-Malware for PC provides one of the best malware removal solutions for Windows powered laptops and desktop computers.
The main features of this anti-malware program include:
Anti-rootkit: all rootkits will be removed by the software. These malicious codes usually damage files on the system. These damaged files will also be repaired by the application.
Compatible with antiviruses: virus protection is not the specialty of Malwarebytes product. So in addition to this malware removal software, users need an antivirus program such as AVG, Norton or Kaspersky on their systems. This way their computers would be more secured against different kinds of security infections and threats. Fortunately, installing Malwarebytes on the computer doesn't stop the necessary functionality of a virus protection software.
Advanced malware and spyware removal: all malicious code including malware, spyware, rootkits and other kinds of threats often missed by antivirus programs will be detected and eliminated by this powerful software.
Please note that the above features are the main options provided by the free version of the program. There is also another paid version which is called 'Premium' containing more advanced features. These include: scheduler for scanning or database updates, Hyper Scan mode (faster scans), real-time protection and malicious website blocking.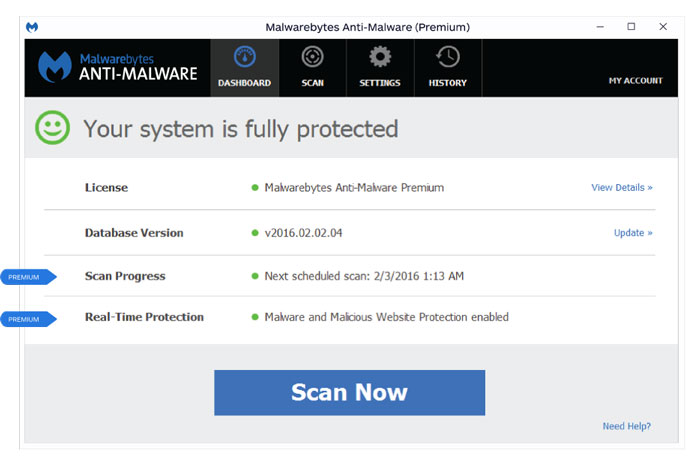 The software could be downloaded and installed on all versions of Windows (from XP to Win 10). It also supports both 32-bit and 64-bits editions of Windows.
To download the free version of Malwarebytes check out: https://www.malwarebytes.com/mwb-download/thankyou
The premium edition of this antimalware could also be bought for $24.95 (for one PC).
Malwarebytes for Mac
Despite many users belief, Mac OS X computers could also be attacked by codes which target Apple systems or degrade their performance.
This malware protection software for OS X could scan for these malicious programs and remove them.
The main specialty of the program is removing adware and malware. And it's so small in file size (about 8MB) that it hardly occupies any disk space more intended for apps, music and movies.
Another great advantage is that Malwarebytes scans usually take about six seconds, making this program ultra-fast.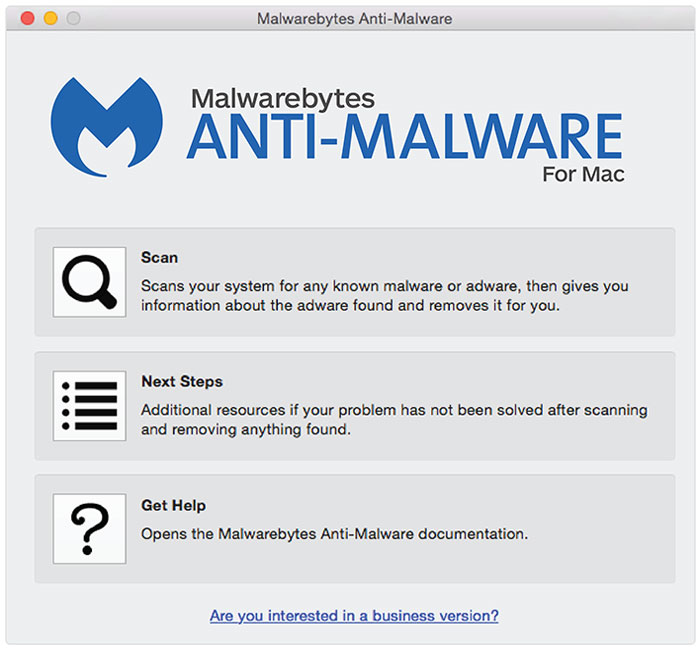 To download the anti-malware product of Malwarebytes for Mac OS X, users could go to: https://www.Malwarebytes.com/mac-download
Malwarebytes for Android
Together with other similar useful apps like Kaspersky Antivirus and CCleaner for Android, Malwarebytes makes it way to every Android device whose owner feels a need to secure its device from different kinds of online threats out there.
Unauthorized surveillance, infected apps and malware are the main items which this security app for Android could defend against.
Provided options and features include:
Location tracking apps will be identified by this app
Security vulnerabilities on the Android device could be scanned
Whenever an SMS or text message is received which contains malicious website link, it would be detected by Malwarebytes and the user would be notified
PUPs (Potentially Unwanted Programs) or malicious code in the device apps would be scanned
Automatic protection database updates
On-demand scanning (when activated manually) or automatic or real-time scanning (when apps or files are accessed)
Automatic scan schedules
SD card and native memory scanning
Android users could download the Android apk (compatible with Android 2.3 or higher) of this anti-malware for free from: https://play.google.com/store/apps/details?id=org.Malwarebytes.antimalware
Malwarebytes for iPhone (or other iOS devices)
Unfortunately at this time no version of Malwarebytes Anti-Malware for iPhone or other iOS devices has been made by the company.
But there are certainly some great alternative apps for security purposes on these Apple mobile devices.
Some of these iPhone apps could be viewed below:
McAfee Mobile Security, Vault, Backup and Locate
Norton Mobile Security
Lookout – Security, Backup and Missing Device
MobiShield
There are also other useful apps related to security and virus protection for iPhone and iPad which could be found on Apple iTunes Store.