Insightly Review & Pricing
Insightly is a powerful cloud-based software in CRM and project management category offering cost-effective features and tools to business owners and entrepreneurs across the globe.
Insightly has a wide range of users including non-profit organizations, small businesses, larger companies or even freelancers. These languages are available in the software: English, Spanish, French and Portuguese.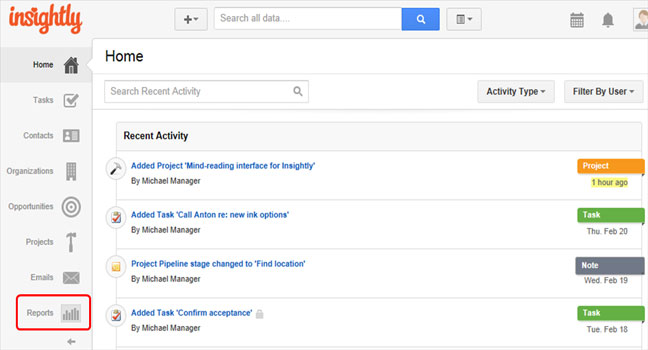 Features
Contact management – giving you address book automation tools, Insightly offers users all details about contacts. Custom fields enable adding extra information. Also, contacts could be tagged or linked to other contacts or projects.
Lead management – Insightly could be a great help for managing leads, which are prospects that could be end up your customers. These leads could be gathered from different sources like forms on your website. Then, all tasks related to them could be done through the program including status view, interaction history, tagging, and rating.
Project management – one of the great aspect of Insightly CRM software is that you don't need any additional software for project management, since this application offers some great functionalities such as contacts role specification, email correspondence tracking, creating pipelines, milestones and tasks, and detailed reports.
Sales automation – the software does a great job in providing sales process management tools. These include creating sales opportunities, sales activities and pipelines management, close dates forecasting and more.
Mobile – numerous tasks such as tracking projects or managing contacts could be done through your tablet or smartphone, from the office or on the go. Insightly app is available for Apple iOS and Google Android devices.
Reports – lots and lots of informative and useful reports could be generated through Insightly based on various options. Reports details are numerous, containing info such as funnel analysis, categories, losing business reasons, opportunities value, pipeline stage, etc.
Integrations – many great apps and services are included in Insightly integration features in many different categories such as email services, accounting, document management, sales services, etc. some of these applications include Microsoft Office 365, Outlook 2013, Google Apps, MailChimp, Evernote, Gmail, Dropbox, OneDrive, Google Drive, and so on.
Insightly Pricing
Insightly offers a free plan which up to two users could use after a free sign up. This plan provides limited features such as 5 email templates and up to 10 emails sent out per day. It supports up to 2,500 records and only 200 MB storage. No custom branding as well as integrations, or application sync is available in this free account.
Basic – as the name implies many basic needs are included in this plan with a higher limitation compared to the free plan. The storage is 1 GB, and 25,000 records are supported. There are 100 email templates and mass email tool could be used to send out 500 emails per day. Custom branding, application sync and integrations are also active in this package which is priced at $12 per user per month.
Plus – all previous features included plus higher numbers: 10GB storage, 100,000 records and 100 email templates. Mass email limitation is also set to 2,500 emails per day. The price for this plan is $29 per user per month.
Professional – for more capabilities use this plan which offers: 100GB storage, 250,000 records and unlimited email templates. Maximum 5,000 emails could be sent using this plan which costs $49 per user for each month.
Enterprise – the highest plan costs $99 per user per month with 250GB storage and 500,000 records. Mass email supports up to 10,000 emails per day.
It should be noted that all above prices are for annual subscription which is slightly lower than monthly billings. Also, it is recommended that if you want to take a look at full potential of the software, instead of using free plan, consider signing up for free trial which gives you the features and tools of the Professional plan.