Buildertrend Review & Pricing
Buildertrend is a popular construction project management application. This software is usually used by residential construction professionals such as custom builders, remodelers, specialty contractors, and also home builders.
This application is specially created to help you take more projects, minimize costly errors, and also accelerate the overall project completion procedure. When this program is used properly, it can be used to boost the overall customer satisfaction.
Some interesting features can be found in this program. You can use this project management software for doing project management, customer management, project scheduling, and also service management from a single app.

This software will take care of the bidding requests, building proposals for the presale process, and also single-entry estimating process.
You can use this program for acquiring more projects easily. When you use this app, you can maintain your daily tasks, such as creating daily logs, managing your schedule, and fulfilling your to-do lists every day.
This app can be accessed via your smartphone, so you can work at any time you want from anywhere easily. It can give you flexibility, especially when you start a new project with your clients.
Here are some reasons why you have to consider using this powerful application now.
1. Good for pre-sale process
When you are planning to send bid requests to many people quickly and easily, you can consider using this software. It allows you to have a cost-efficient and paperless way in this process.
Buildertrend can be used to create accurate estimates from all collected data on your projects. Some important features are beneficial for the pre-sale process, for example, mass marketing campaigns, automated drip email campaigns, and also lead management system.
You can also create professional-looking proposals when using this application.
2. Good project management
It can be considered as the best project management tool that you can use now. This construction software is very useful to help you store any daily logs, including document job notes, voice-to-text capabilities, and also easy photo taking procedures on the job site.
This software also comes with a powerful to-do list feature. This feature can be used to assign tasks, give alerts on task completion, and help you manage your project easily.
It is recommended for you to manage your schedules properly by using this software, so you can manage your project easily. All of these features can be accessed from your mobile phone.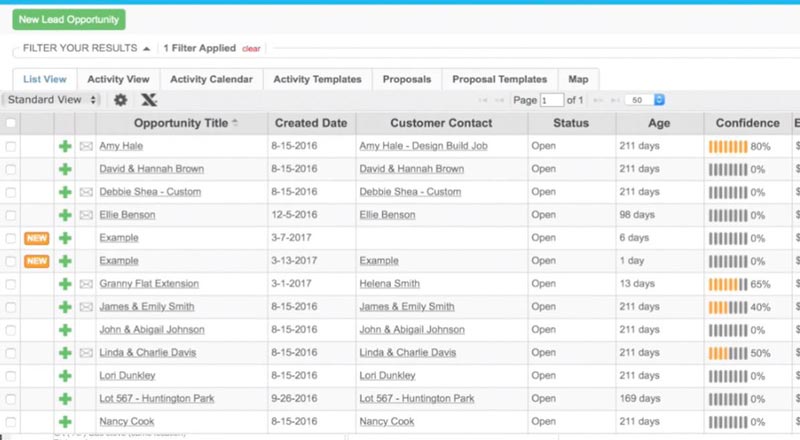 3. Can be integrated with other software
This is another benefit that you can enjoy from this software. Buildertrend allows you to integrate this software with other apps.
It has a good integration system with Xero and QuickBooks for accounting, WePay, and PayPal for handling the online payments, and also social media apps, for example, Twitter, Pinterest, and Facebook.
This integrated system allows you to get the most benefits from this software. You can also use this software for creating a good customer management system. It allows you to provide the best service for all customers when you use this software.
4. Fully supported by the customer service
Buildertrend is supported by some professional customer service representatives. They are ready to help you learn about all features from this Buildertrend. When you join its membership, you can get access to its account manager.
It allows you to get support and training sessions regularly. There are daily webinars that are specially held for improving your knowledge and experience with this tool.
Don't forget to join Buildertrend University, so you can get all the benefits of this tool. Its 24/7 help section will allow you to get the best answers for any of your questions.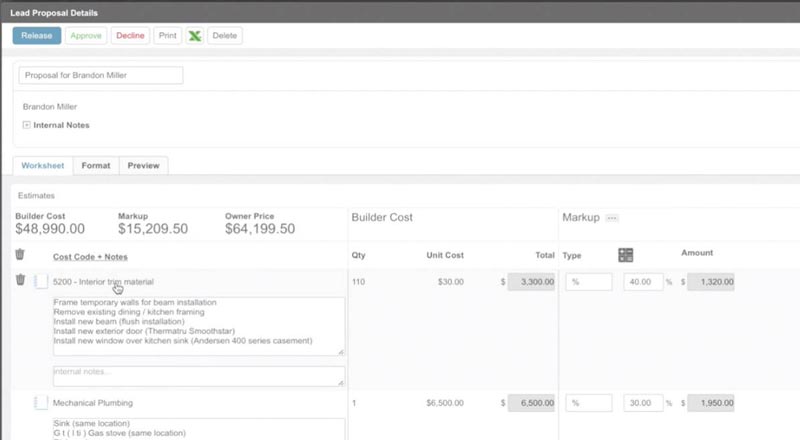 Pricing
Buildertrend is offered at about $299/month for 3 users. This plan allows you to have unlimited projects with this software.
You can also add clients and subcontractors without additional charge. Additional users will be charged at about $39 per month. If you need large business requirements, you can always contact Buildertrend for asking about a customized plan.
There is no setup fee that you have to pay when you want to get access to all features from this tool. All users are protected by their warranty. You may cancel your subscription in the first 30 days for a full refund without any questions.