Infusionsoft Review & Pricing
As a unified marketing and sales software for companies and small businesses, Infusionsoft is one of the most powerful and in fact, at the current time, the leader product in its category chosen by entrepreneurs and business owners.
Although many categorize Infusionsoft in CRM software systems, but this program is more than just a customer relations management software, an email marketing service, or in fact, just any other aspect of its complete small business solution. The real power of this software lies in the full coordination of its different functionalities: CRM, marketing, e-commerce, and automation.
Infusionsoft enables its users to automate and manage marketing and sales processes in order to get more organized and grow faster.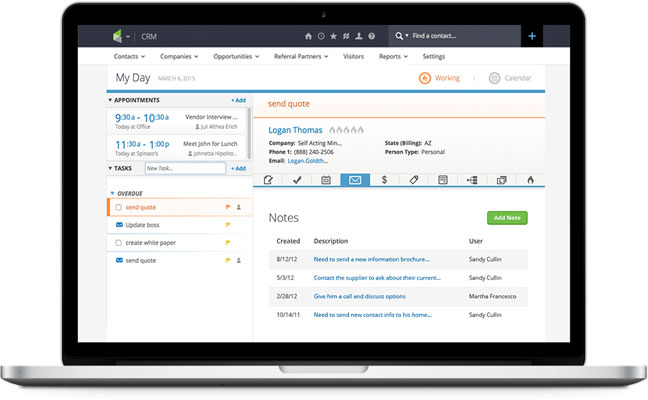 Features
CRM: Infusionsoft provides a very powerful customer relationship management platform which lets you control lots of customer related tasks all from one place. These include client contact information and orders history, submitted online forms, total money paid to the company, etc. Defining tags (used to segment clients' lists) and notes for each customer is also supported, as well as adding tasks and appointments. These could be used for automation processes.
Email marketing: the "Campaign Builder" feature of Infusionsoft enables users to create professionally-designed emails made for many different purposes such as autoresponder email messages or regular subscribers' newsletters. Equipped with drag-and-drop and styling tools, users could easily customize their emails, which could be designed in plain text or HTML format.
E-Commerce solutions: using this software, you no longer need to worry about how to accept different payment methods, setting up an affiliate marketing system, or giving away discount codes and coupons. Infusionsoft come with a complete set of online business tools, making users able to easily manage online stores, and at the same time, giving an enjoying online shopping experience to their clients.
Marketing automation: "Campaign Builder" which was mentioned above is a lot more than just email marketing management system. It could be used to visually design the marketing process using needed items such as forms, upsell offers or email messages. In fact, users could access other methods such as social media, direct mail, or even fax. Using complete website analytics and activity monitoring systems, Infusionsoft software makes sure to help users automate their marketing efforts, so that better and faster reach their business goals.
Sales automation: the software scores leads automatically based on different factors such as opened webpages and emails, applied tags, sent online forms, etc. This makes you able to contact those leads which are scored higher and hence more likely to make a buying decision.
Reporting: Infusionsoft provides detailed and inclusive reporting which let users learn which parts of their marketing and sales processes work well and which parts don't.
Systems integration: one of the real powerful aspects of this software is the high number of applications and systems with which it could integrate. Some of them include: Unbounce, Zapier, Drupal, WordPress, Wix, Webmerge, GoToWebinar.
How much Infusionsoft costs?
Infusionsoft have four main pricing plans which are as following:
Essentials: as the minimum package with a price tag of $199 per month, it offers marketing automation solutions in addition to CRM tools, making it suitable for small businesses with lower budgets and smaller teams. This plan supports 3 users, 2,500 contacts and 12,500 emails each month.
Delux: this plan is an option for users with either online stores or sales teams, providing one of these two advanced options (e-commerce services or sales automation) compared to the previous plan. 'Delux' costs $299 per month, and supports 4 users, 5,000 contacts and 25,000 emails each month.
Complete: there are no 'either' in this plan like the previous one, since 'Complete' offers both e-commerce and sales automation features, while costing $379 per month. 5 users could access the software, with 10,000 contacts and 50,000 emails each month.
Team: although there are no extra features and tools here, but for larger businesses with more marketing needs the 'Team' package could make a difference. It provides access for 10 users, 20,000 contacts and 100,000 emails each month, all for a $599 per month price.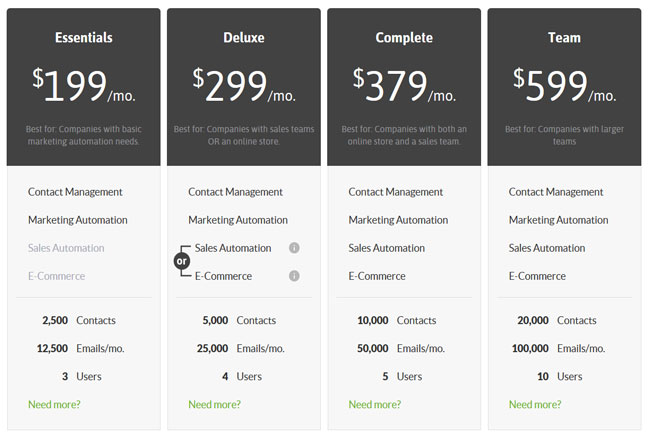 Please remember that in addition to the above costs, there is a required 'kickstarter' fee – which starts at $1,500 – that's paid for 'onboarding services'.  These are for new customers and include training and couching resources.
Which businesses is Infusionsoft for?
It's probably obvious that no matter how much a software is full-feature product and complete solution, it might not be right for some businesses. And that's the case with Infusionsoft too. According to many experts this software is more suitable for companies with a large amount of annual online sales (over than $100,000).
In other cases, it is better if you use other services and web applications which cost less, but do only the task you need. For instance, for CRM services use Zoho CRM or Salesforce, or for email marketing take use of Mailchimp.
Help & support
Infusionsoft company has many methods to offer customer support. The fastest and easiest (for many users) way to solve issues is by giving them a phone call. They also provide 24/7 live chats to answer your questions. The last option is support ticket which usually takes longer than other channels.