HotSchedules Review
HotSchedules is an employee scheduling software which could be a great help for business owners and managers who want to automate their scheduling management, especially in businesses such as restaurants which tend to have busy and hot schedules.
Sometimes, you might find yourself stuck in loads of time-consuming tasks and chores, such as managing staff and employees' scheduling. But have you ever asked yourself if there is a better and easier way to do these kinds of tasks done?
HotSchedules (sometimes referred to as HotSchedule) could save up managers' time by more than 70 percent, and decrease staff costs by 4 percent.
No matter how big is your business – from working with 5 or 6 employees to running a multi-location retail store –HotSchedules cloud-based services and products could provide many benefits in so many ways. This online and mobile employee management software could be used by a vast range of businesses like restaurants, retailers and hotels.
How HotSchedules works
Scheduling: forget the sticky notes or pieces of paper containing employees' requests or complicated work hours spreadsheets. The software allows to create staff schedules with no hassle and online. You could use schedule templates or copy/paste other ones and then modify them as required. In addition, manage time-off requests and shift swaps from online account.
Communication: contact all the employees to make a public announcement or send messages to certain team members. The communication platform lets you communicate with the team through text or email. These all could be done through computer or smartphone wherever you are.
Reporting: generates advanced reports on sales trending (using POS systems data), daily roster, staff budget, etc. Uses the current information based on workforce and sales data to predict schedules for up to 4 weeks later.
Modules: if you want to manage more options and access more features, simple take use of different HotSchedules add-ons including meal period planner, floor maps and logbook.
With all its options and capabilities, this product is more than scheduling software. It's a comprehensive employee management suite which allows its users to do their business more cost-effectively and with more free time.
HotSchedules app
There are both Android and iOS apps available to use for smartphones and tablet devices. The app offers many features and options for staff members and managers. Once employees run the app and login to their account, they could access work schedule, select shifts or swap them with coworkers, contact other employees, enable notifications for schedules changes, new messages, etc., and so on.
On the other hand, the app provides owners with features such as shift change approval, staff messaging, notifications setup, and more.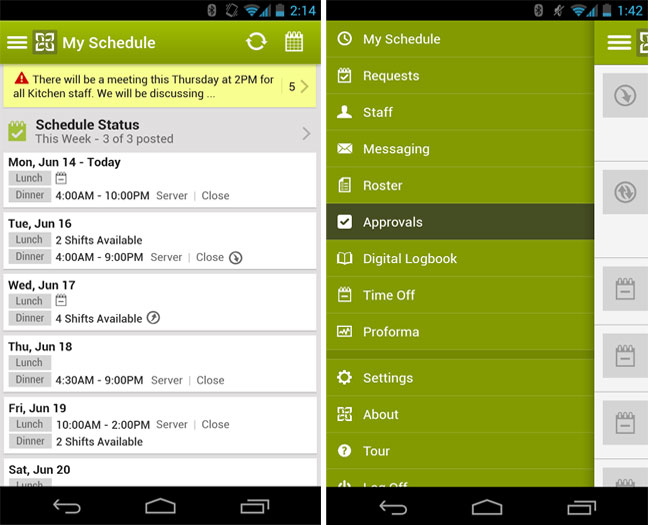 Buy ($2.99) and download the app from Google Play (for apk) or Apple App Store:
https://play.google.com/store/apps/details?id=com.tdr3.hs.android
https://itunes.apple.com/us/app/hotschedules/id294934058?mt=8
Other products and services
Other than this software, the company has many products and solutions to help businesses, especially restaurants, run and grow more efficiently, while offering great services to their customers and increasing their profits.
Jobsabi – acts as network for job referral which helps restaurant managers find great talents recommended by their staff members, and it also allows job seekers to make connections with other users and explore and find their favorite restaurant jobs.
Schoox –teach your team and track their learning progress with this product. It has several tools and options for creating and importing online courses, learners sharing and communications, etc. It comes with 20 courses in restaurant training which is provided as free. These include upselling, multitasking, timing the tables, etc.
Logbook – provides a took to record and log all your business notes and information, equipped with many features such as fast and easy searching, tasks tracking, alerts, commenting, etc.
Macromatix – as a tool to manage restaurant operations with many features such as financials and inventory control, advanced reporting, and forecasting system.
HotSchedules price depends on the size of the business and other aspects and could be requested through contacting the company.