Aimersoft DVD Ripper Review (Mac & Windows)
Many use the Aimersoft DVD Ripper software to convert their favorite DVD movies to files which they could play on their desired portable device. This powerful tool has great editing tools along with ripping functions, which make it a must-have application for any movie lover.
This Aimersoft software could be used to rip DVDs and produce output video or audio files which are readable by iPhone, iPod, iPad, Xbox 360, PS3, Apple TV, and other popular devices.
Features
Different kinds of DVD support – no matter users want to rip a homemade DVD or an encrypted DVD (protected by Region, CSS, RCE, or some other restriction), the program lets them to do that with no hassle.
Conversion to popular video formats – using this DVD ripper software it's very easy to convert DVD Movies to main video file types such as MOV, MP4, AVI, MKV, FLV, and other popular HD and SD formats.
Built-in video editor – the software is equipped with a set of video editing tools which could satisfy basic needs such as adding watermarks and subtitles, cropping, trimming, rotating, applying visual effects, and so on.
Fast conversion – instead of using the CPU of the system, the software uses NVIDIA's GPU to process video conversions. That's because the application uses the NVIDIA CUDATM technology which means higher video qualities with faster ripping speeds.
Audio extraction – it's very simple to extract background music or audio tracks from DVDs. The output file could be AC3, OGG, WMA, MP3, and else.
Saving snapshots – users are able to take snapshots of their favorite movie scene.
DVD movie info search & embed – when a DVD movie is loaded, the program could search for movie info such as release date, actors, movie director, genre, and other metadata. Then it gives the ability to embed these info to the movie.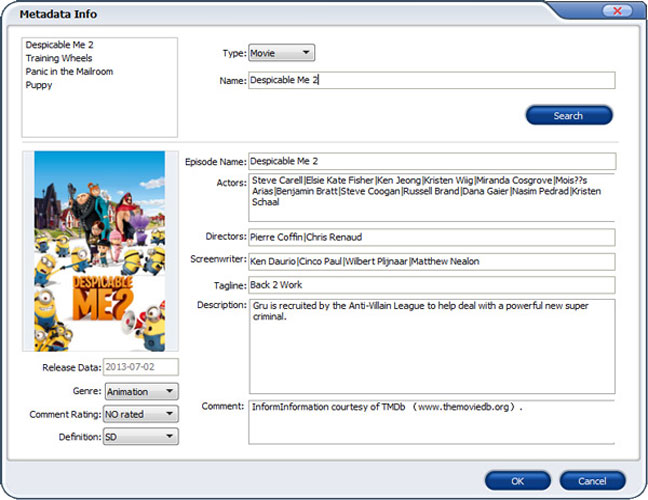 How to use the program
Launch the program after inserting the DVD movie into the drive. 'Load DVD' button on the interface will trigger the files upload. Importing DVD folder, IFO/ISO files for conversion is also possible. Users could also have one output file instead of several files, when converting several DVD titles.
The export file type could be selected from the drop-down list below the DVD files' list. Regular formats such as FLV, AVI, WMV, MP3, WAV, MKV, MP4, etc. are available. Selecting a device is also possible from lots of options below the format selection section. This make the ripping suited for playing on the selected device with optimized settings.
It's also good to remember that if the output video format is M4V, MOV, MP4, or iDevices output presets, Movie metadata could also be added.
When the DVD files have loaded completely, the software could be used to crop, combine, and edit the DVD movie. Watermarks, subtitle, and video effects could also be added easily using the editing functions.
When all the options are as wanted, the 'Start' button should be clicked to begin the DVD ripping process. Duration and quality of the output file affects the conversion time.
Download
Aimersoft DVD software could be downloaded and installed on Windows (XP to 10) and Mac OS X (10.6-10.11) systems.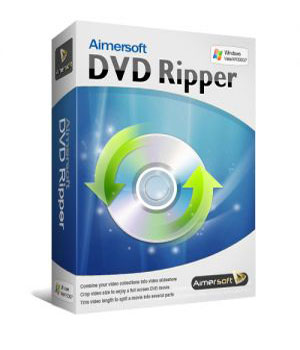 Both versions have a price tag of about $40.
To show the functionalities of the software it presents a trial version to let users experience the tool before buying. And for those who are more cautious when shopping online, it offers a money back guarantee for 30 days.
To download the trial version for Windows: http://download.aimersoft.com/aimer-dvd-ripper_full51.exe
To download the Mac trial version: http://download.aimersoft.com/aimer-dvd-ripper-intel_full234.dmg
Aimersoft Studio is a company active in producing user-friendly and high quality tools for video, DRM, DVD, and PDF purposes. Other software developed by the company are products such as DVD Copy tool, DVD Creator, Video Editor, Video Converter, and DRM Media converter. Most of these software applications are usable for both Windows and Mac operating systems.