Backblaze Backup Review
These days, many companies are active in providing online cloud backup services. Backblaze is one of the top choices for both personal and business users who want to keep their files and data protected and secure.
Read on this review to find out why this online backup solution is a great choice for anyone looking for a reliable and fast service with competitive prices.
Features
Supporting all data – the software allows users to back up all files including documents, movies, photos, music, etc. So using it there is no need to worry about compatible file types as it supports all of them. Backblaze settings give the options to select unwanted data for the process. Backblaze backup service also keeps deleted files for 30 days in case of any mistake.
Unlimited data – the company hasn't put any limit in place for the amount of data users could upload to the cloud servers. Also, unlike some other similar services, the file size is unlimited as well.
Restore & backup from anywhere, with any device – no matter where you are, as long as having access to the internet, you could restore all the files you want using the Backblaze web application. Android devices or iPhone could also be used to get the needed data.
Supporting external hard drives – Backblaze supports any external hard drive connected to the PC in time of install or later. There are no costs for adding extra drives. They could be connected through USB, Thunderbolt, or Firewire.
High security – in order to keep users' data as safe and protected as possible, Backblaze uses secure datacenters and data encryption methods. The encryption is done before files are sent over SSL connections to the server. Moreover, the application doesn't use any Java code so that to be safe from common Java security attacks.
Continuous service – don't worry about the file changes and updates. Backblaze automatically scans your computer for those changes and updates the backup regularly. Of course, program settings let users customize this as they like.
Locating lost computer – the software is able to help users find their lost computer by locating it.
How it works?
After installing the Backblaze software on the computer, it begins the backup automatically and without users needing to do anything. That's one of the differences between this service and other similar solutions available such as Carbonite and Crashplan which requires you to select files and folders before backing up.
More than that, Backblaze provides the option to select some files/folders/file types to be excluded from the backup process.
For example, if you have some folders on your hard drive which contains some temporary files with big sizes, and intend to delete them in the future, you could easily save internet bandwidth by disallowing those folders from uploading to the cloud backup servers.
So, in effect, the software backs up everything on your system, except system files and applications.
Later, the software scans your system for updates and changes regularly, so that to upload the newest versions of files and documents.
In fact, Backblaze software enables users to schedule the backup. Options include continuously backing up, once per day (you could set the time), or only after clicking 'Backup Now'.
Important note: be sure to use the Backblaze just to back up your hard drive, and not as an online storage. That's because the service will delete the uploaded files to its server which couldn't be found on your system in less than 72 hours.
For online storage services, you could use Backblaze B2 Cloud Storage, with affordable price plans and easy-to-use interface.
Pricing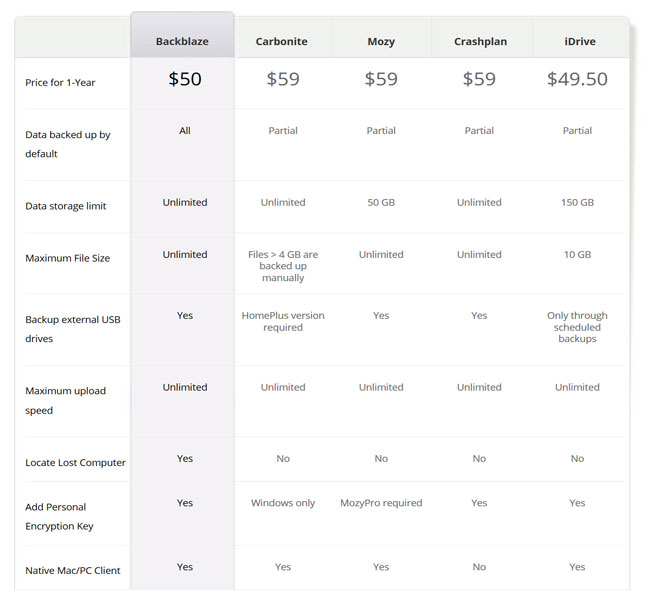 Backblaze provides a very simple and clean pricing plan: the service is available for $5/month, $50/year, or $95/2-year. Just keep in mind that these are per computer prices.
The company also offers a free trial of its service for a period of 15 days for those wanting to see how it works before purchasing.
Both Mac and Windows users could benefit from Backblaze great backup features.