Skybell Wi-Fi Video Doorbell Review
No matter where you are – at work, at home or behind the wheels – you could now use your cell phone to find out who's ringing your doorbell. Of course that's possible if you use Skybell wireless video doorbell. The device is compatible with many Android and iOS smartphones.
Read on this review to know more about the features and how this high-tech device will benefit you.
As a great replacement to an ordinary doorbell and a peephole, a Wi-Fi enabled video doorbell could spare you the hassle of going to the door and seeing who's there through the peephole. The device could even act as an intercom and let you talk to whoever there is behind the door using your smartphone.
Main features
With the use of a high quality camera and wide-angle lens, Skybell lets you easily see what's going on behind your door.
Also, hear and speak to the visitor wherever you are.
The motion sensor used in the device allows you to be informed about visitors who don't press the doorbell button.
Skybell on-demand feature displays the camera view on your phone whenever you want.
Skybell is weatherproof and is equipped with night vision.
In case you already have a digital doorbell chime, you could still use the Skybell with the help of an accessory adapter.
The device could be configured to send the calls and alerts to multiple users and phones.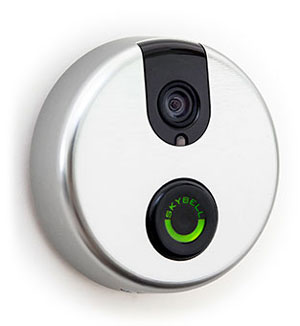 Although Skybell isn't a perfect product – for example, it would be better if it could record video -, it does a great job on providing these features to you with quality, and that's what set it apart from its competition such as Ring.
How to install Skybell
This Wi-Fi video doorbell relies on low-voltage power, a wireless router (compatible with 2.4 GHz band and b/g networks), and of course, a high speed internet connection (at least 1.5 Mbps sending speed). You could see their website for full requirements.
First you have to mount the Skybell and connect the device to the power wiring used for your mechanical doorbell (in case you use a digital buzzer, you have to use the digital adapter accessory). After that, connect the device to your smartphone using the Skybell app and create an account.
Skybell company offers a theft guarantee, meaning that they will replace your Skybell video doorbell in case it got stolen. They'll charge you nothing of course, except for shipping and handling.
The main novelty and strength of wireless video doorbells such as Skybell lays in the fact that you're no longer required to get too close to the stranger on the other side of the door (in order to see through the peephole) to see who's at your door or what's going on. And those situations happen a lot for many of us. In fact, you could see behind your door even before anyone pushes the button (if ever!), since just approaching close enough triggers the alarm.
The device could be ordered from the Skybell website itself, and is also sold at Amazon and Best Buy.