Razor E300 Electric Scooter Review
Razor E300 is a popular option that you can find among electric scooters available in the market. Riders of all sizes will be able to think about purchasing this electric scooter to secure a perfect riding experience. Here is a comprehensive review of the Razor E300 scooter.
You can go through this review and understand whether it is the perfect scooter available for you to purchase or not.
Who should buy Razor E300?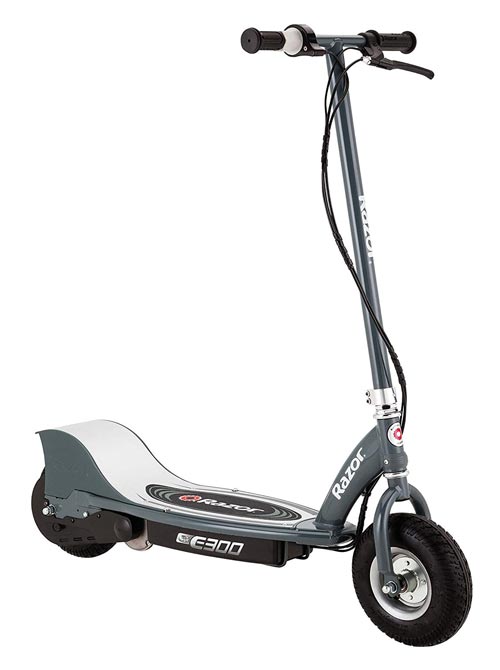 Razor E300 is ideal for both adults as well as teenagers. However, it is highly recommended for the teenagers due to the design.
If you are interested in purchasing a scooter that can deliver a leisurely ride around your neighborhood, E300 is one of the best options to consider. You can use this electric scooter for your day to day commute as well.
Design
The E300 scooter has a futuristic design. You will be able to get this electric scooter in numerous bright colors. Both the frame as well as the deck of this bike are super sized. In addition to that, you will be able to get extra wide tires in the bike as well.
You will be able to get a decent and an impressive design out of Razor E300 electric scooter. You will never end up with any complaints in terms of the design.
Maximum speed
According to the manufacturer, Razor E300 can help you to achieve a maximum speed of around 15 miles per hour. Therefore, you can think about calling it as a fast electric scooter available in the market to buy.
Even if it can deliver a faster ride, you will notice that the motor is linked with a quiet operational experience. Therefore, you will never complain about the noise output given by the scooter.
Battery life
At the time of purchasing an electric scooter such as Razor E300, it is important to pay extra attention towards the battery life.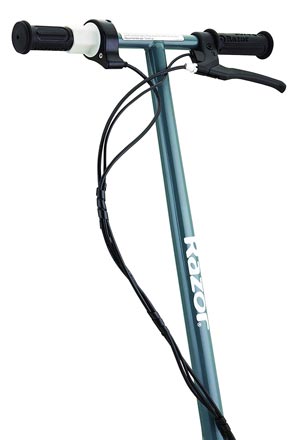 Along with Razor E300, you will be able to get a battery life of around 9 to 10 miles. In other words, you will be able to ride the electric scooter for a duration of around 45 minutes with a single charge.
Therefore, you will find it as an easy task to use the electric scooter for any leisure activity that you will come across as well.
Weight
You should also be mindful about the weight of the electric scooter that you are purchasing. That's because it can contribute a lot towards the handling experience that you can secure. Razor E300 is a mid-range electric scooter.
It will weight 42 lbs. E300 can support riders who weight up to 220 pounds.
Portability
This electric scooter doesn't come along with a foldable design. This is one of the biggest drawbacks that you can find in the product. However, you still have the freedom to dismantle the handlebars of the scooter.
Hence, you can store it in limited space that you have at home. Due to the weight of the product, it is quite difficult to carry it. You should be mindful about this fact at the time of purchasing it as well.
Features
You can get a range of impressive features out of Razor E300. In fact, it delivers all the basic features that you will be able to get out of an electric scooter.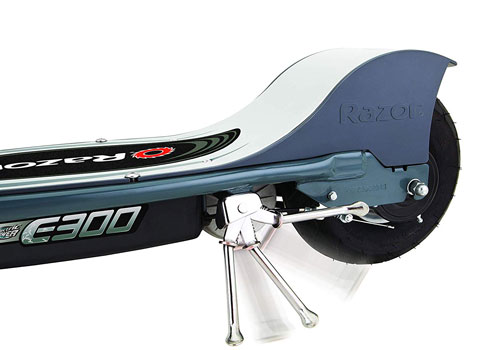 Razor E300 comes along with twist grip throttle acceleration control. This can deliver a better handling experience to you while you are riding the bike.
On the other hand, you will be able to find hand operated rear brakes in the bike as well.
There are 10-inch tires, which deliver extra width. This can deliver a smooth ride to you at all times.
Kickstand that comes with E300 will provide you with the opportunity to keep the scooter standing. On top of everything, you can get a quiet motor out of this product.
Overall, other main features include:
To increase control and traction, it comes with rear wheel drive
High torque, chain driven motor
Super-sized deck and frame
To see the price please visit E300 Amazon page at https://www.amazon.com/dp/B0085HM36Y
Safety
At the time of buying an electric scooter, it is important to pay extra attention towards safety. The designers of Razor E300 have been concerned about safety.
Due to the same reason, you will be able to get a large number of safety features out of it.
The Razor E300 comes to you with a hand operated brake. This brake is there on the left hand side of the handle bar.
It will be able to provide convenient access to you when you need to stop or slow down.
Once you activate brake of Razor E300, you will notice that power given out by the motor is cut down. Therefore, you will be able to bring the electric scooter to a safe stop at all times.
Also, there is a seated version of this electric scooter available, which is Razor E300S: https://www.amazon.com/dp/B0085HM3VE
This could be more suitable for those looking for seated scooters instead of the stand-up type.