Polar A300/A360/M400 Fitness Trackers Reviews & Comparison
Polar fitness trackers are among the best products in the market in their category. They offer advanced features such as touchscreen display, heart rate monitor, GPS, sleep tracker, workouts planning and so on. Here we review and compare a number of Polar tracker models.

Polar A300 Fitness Tracker and Activity Monitor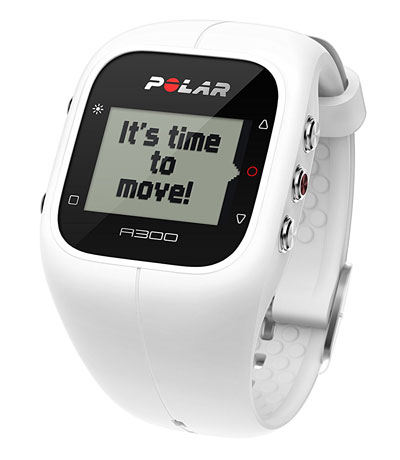 Track the calories burned, distance and steps 24/7 by Polar A300, which is a waterproof fitness monitor tool.
Features:
Customization – wrist bands are available for this tracker with different colors. They're interchangeable. And could help users design their gadget so that it would fit their style.
Compatibility – A300 offers accurate and continuous heart rate tracking by supporting H7 heart rate sensor.
Sleep tracker – sleep patterns, quality of sleep and sleep time are tracked automatically.
Advanced technology – throughout the day, users are helped by Polar A300 to keep moving through vibrating inactivity alerts.
To buy or check more reviews for Polar A300 use this: https://www.amazon.com/Polar-Fitness-Tracker-Activity-Monitor/dp/B00TZJGAPG
Available colors at Amazon are yellow, white, pink and black.
Polar A360 Fitness Tracker with Wrist Heart Rate Monitor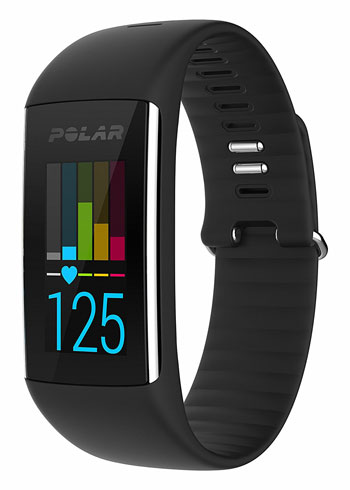 With a color touch screen and smart notifications two of its smart watch features, Polar A360 is a powerful 24/7 activity tracking device. Personalized training guidance and heart rate monitor are other options coming with this waterproof fitness tracker.
Other features include:
Daily activity goal
Speed & distance from the wrist
Wrist-based heart rate monitor
Waterproof
Wristbands with changeable colors
Color touchscreen display
App & web service (free)
Inactivity alerts
Smart notifications (with vibration)
Steps, distance & calories
Activity tracking 24/7
Sleep quality tracking
Offered in small, medium and large sizes, Polar A360 fitness tracker is available at Amazon: https://www.amazon.com/Polar-Fitness-Tracker-Wrist-Monitor/dp/B01B8VHQCY (blue, white, pink and black are the available colors)
There is also a Polar A370 model (https://www.amazon.com/Polar-Fitness-Tracker-Wrist-Based/dp/B072MHSX52) available for sale with very similar features such as GPS via phone and continuous monitoring of heart rate.
Both A360 & A370 models are compatible with iPhone (iOS) and Android devices.
Polar M400 GPS Smart Sports Watch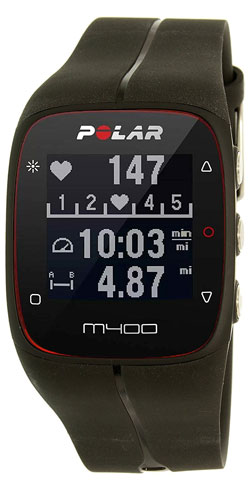 Coming with advanced training and GPS features, Polar M400 is a durable and comfortable running watch most suitable for runners looking for a fitness trainer with sporty design and useful options.
Here are some of the features of M400:
Social smartwatch – using web service and Polar Flow app, it's very simple for users to plan, share and sync their training.
H7 heart rate sensor compatibility
Waterproof fitness tracker – no matter what the weather condition is, avoiding injuries and running efficiency improvement could simply be done using M400.
Regular tracking options such as sleep quality, burned calories, distance, steps and workouts tracking along with a built-in GPS technology
More details on Polar M400 fitness tracker – available in 5 different colors – could be found at https://www.amazon.com/Polar-M400-Smart-Sports-Watch/dp/B00Q6TPRV6
Similar to M400, Polar M600 (https://www.amazon.com/Polar-M600-Sports-Smart-Watch/dp/B01LOLZDHI) is another tracker which could connect with TrainingPeaks, MyFitnessPal and Strava. It is powered by Google Android Wear.
Conclusion
Apart from common features among above Polar tracker models (A300, A360, A370, etc.) – such as data export, Polar Flow app compatibility, training planning, smart notifications, Bluetooth smart, training history, sport profiles, heart rate monitoring and activity tracking – there are some small and sometimes important differences among these models.
To learn more about the specific features and options for each Polar tracker please visit the official website of the manufacturer – i.e. Polar dot com.
According to some users leaving reviews on Amazon, Polar trackers could be a better alternative for many, depending on their lifestyle or/and daily workouts, compared to other well-known brands in the fitness tracking products such as Fitbit and Garmin.