Jetson V5/V6/V8 Comparison & Reviews
Jetson is a well-known brand in self-balancing scooters market. The major models released by this brand are V5, V6 and V8 which are reviewed and compared here.

V5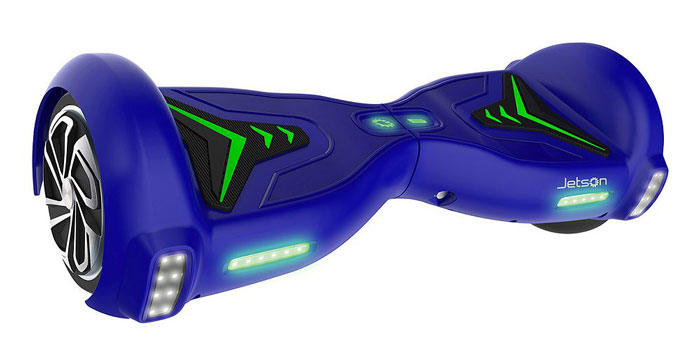 Jetson V5 is the first model in the V series of self balancing scooters by Jetson, which could be used to show off striking balancing skills.
1-year limited warranty by the manufacturer
Plastic & steel
Weight capacity: 280 lbs.
Tire height: 6.5 in.
Distance per charge: up to 12 miles
Speed: up to 7mph
Bluetooth (most Bluetooth-enabled devices supported)
App: used for speed with friends, compare distances and set challenges (compatibility with the device should be checked)
Dimensions: 8″(H)x9″(W)x24″(D)
Scooter and charger are included in the box.
LED lights
While they ride, users could play their favorite songs using the built-in Bluetooth speakers of the scooter.
Currently, Kohls is the only major online retailer listing Jetson V5 for sale: https://www.kohls.com/product/prd-2718874/jetson-v5-self-balancing-scooter.jsp
Available colors are: blue, red, black and silver.
V6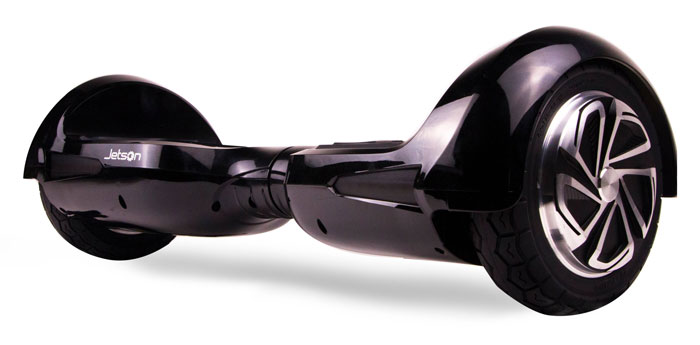 Of course, V6 is very similar to V5 in terms of many features. Some of the specs include:
Maximum weight limit: 300 pounds 
Weight: 22 pounds
Frame material: steel
Maximum speed: 10 miles/hr.
Cruising range: 15 miles
Battery charge life: 2 hrs. (Max.)
Estimated charging time: 1-2 hrs.
Wheel size: 8 inches
Flame & water-resistant
Battery: rechargeable Samsung 160W Lithium-ion
Anti-slip grip foot pads
Auto-shut off when charging finished
Free app for Android and iOS: Jetson Ride Ready App (available at Google Play Store/Apple iTunes Store)
Passed all government safety tests & UL2272 certified.
Users could share their rides on social media
'Lost My Hoverboard': a feature to locate the scooter.
Speed & travel distance live tracking
Please note that users could set the driving acceleration/force, sensitivity and maximum speed manually, or choose from three skill modes. These modes are advanced, intermediate and beginner.
To check out the price and more info on Jetson V6 (not available at Amazon) please visit Target website: http://www.target.com/p/jetson-v6-hoverboard-with-bluetooth-black/-/A-51281473
V8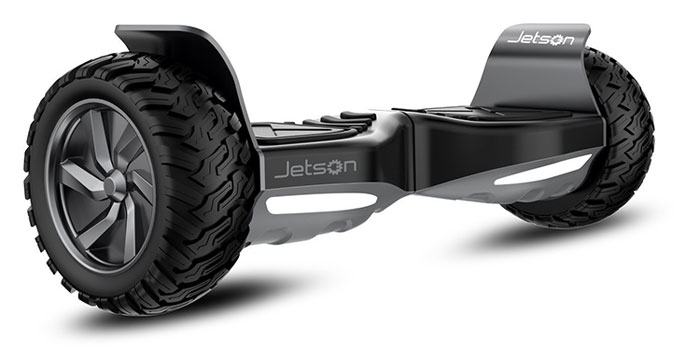 These are some of the features of Jetson V8 hoverboard:
Weight: 35 pounds
All-terrain tires (8.5") – suitable for different surfaces such as grass and gravel. Also, puddles could not harm the device since it is water resistance (IPX4 rating).
LED rear braking lights and headlights – which could be useful for safety as well.
3 Speed modes
Jetson V8 Bluetooth app – could be used to change riding modes, check battery life and view route history (download the app for free for iPhone & Android smartphones).
Independent gyros – a shift of body weight could result enhanced control through dynamic equilibrium.
Charging time: 1.5 hrs.
Weight support: 231 pounds (Max.)
speed: 10 mph
Single charge distance: 12 miles
Dual 400 Watt motors
Check out https://www.amazon.com/Jetson-Balancing-Scooter-All-Terrain-Speakers/dp/B01JUB7H3M to buy Jetson V8 or for customer reviews/price information.
V8 vs. V6 vs. V5
Unlike many other products which higher model numbers suggest advanced features or more options, it is not the case for Jetson V series scooters. That's because more or less we see very similar features in all models. And even in cases, some better features could be found in lower features.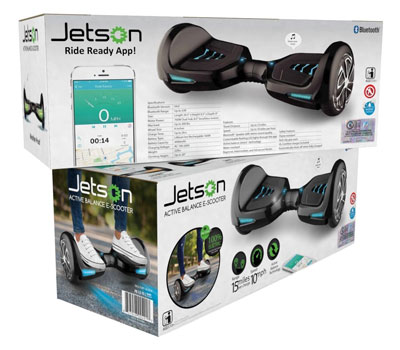 Jetson V6 offers both advanced features such as higher speed compared to V5 and a better design along with Bluetooth support and smartphone app. And with a price $100 cheaper than V8, it is really worth it.
If the various colors choice is of high importance then the V5 might be the best choice since it is available in 4 different colors.
Really, for V8 model, with heavier weight and weaker motor power, we see no advantage, except for the modern looking and design of the hoverboard.
Based on users' reviews, Jetson provides a great customer support, helping users adjust different settings of the hoverboard and getting it to work.
Jetson V6 tutorial video: