Bissell vs. Hoover vs. Dyson Carpet Cleaner Comparison & Reviews
Bissell, Hoover and Dyson are among the top brands for carpet cleaners in the market. Here are some reviews and comparisons for these vacuum cleaners.

Bissell vs. Hoover vs. Dyson
When browsing an online retailer such as Amazon website, it'll be apparent that most of the best-selling the vacuum cleaners for carpet and upholstery are from these two well-known brands: Bissel and Hoover.
In terms of models and options, Bissell offers far more products than Hoover. Canister, portable and upright vacuums are three main types of cleaning machines which are provided by Bissell. On the other hand, Hoover only sells upright carpet cleaners.
In addition to the mainstream vacuum types, Bissell has designed cleaning products which could tailor to specific needs and situations.
For instance, slightly different attachments and features could be found in 'Deluxe', 'Premium' or 'Pet' vacuums. Or 'lift-off' option makes it possible to clean hard to reach areas such as auto interiors, upholstery, stairs, etc. via a removable spot cleaner along with the upright carpet cleaner.
So as said above, the main competition area for Bissell and Hoover vacuums is in the upright cleaners category.
Moreover, Dyson vacuums are very high quality in design and cleaning power. Dyson models include upright vacuums with usually higher prices compared to Hoover and Bissell.
For a better comparison between Bissell, Dyson and Hoover brands, here are some of the best items from all of these 3 brands:
BISSELL PowerLifter PowerBrush Upright Deep Cleaner, 1622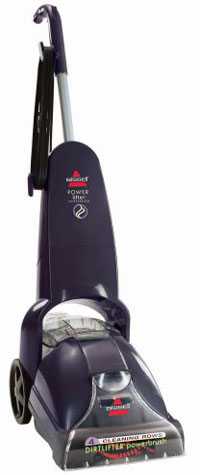 Although very cheap, this Bissell vacuum is one of the top-selling items in the category with positive comments and reviews from buyers.
Some of the specs include:
One-year warranty
8 oz. trial sized formula
Built-in measuring cup
lint screen
Removable nozzle
Using carpet formula and hot tap water, deep-down stains and dirt could be removed by this machine
For easy emptying and filling, it includes 2-in-1 water tank
Better stains and dirt lift and scrub due to the rotating brush
Amazon website has listed this cleaner for sale for a price of $84.61.
Hoover FH50150 Carpet Basics Power Scrub Deluxe Carpet Cleaner
As one of the top vacuums from Hoover, Hoover FH50150 is suitable for removing and cleaning stains on upholstery, stairs and carpets.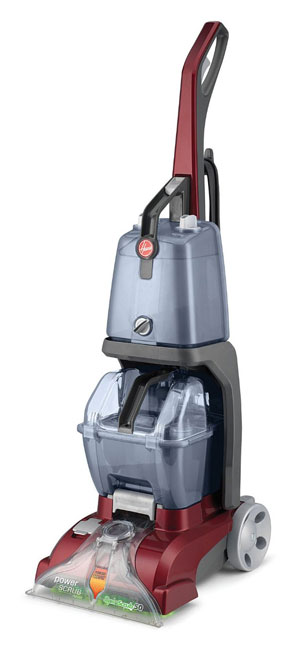 Features:
DualV nozzle: in order to clean surfaces evenly and quickly, it provides equal, strong suction.
Automatic detergent mixing: for optimal cleaning results, it offers the correct mix of water and detergent.
Dual tank technology: users could easily empty, fill and rinse each tank (one for dirty and another for clean water).
Heated cleaning: to speed up dry time and help clean carpet fibers from tough stains, forced heated air is directly applied to carpets by the machine.
Wash/rinse mode: the wash mode uses both water and detergent to clean the carpet while rinse mode uses only water.
SpinScrub brush system: complete deep clean is provided by Hoover vacuum. Carpet fibers are scrubbed from every angle by the 360 degree brush system. This way even the toughest dirt is tackled.
Hoover FH50150 could be purchased from Amazon for $119.
Dyson V6 Motor Head Cord-free Vacuum
A great cleaner by Dyson, V6 has high ratings from Amazon buyers. This vacuum is the right choice for those wanting to have a clean carpet, tile or hardwood surfaces.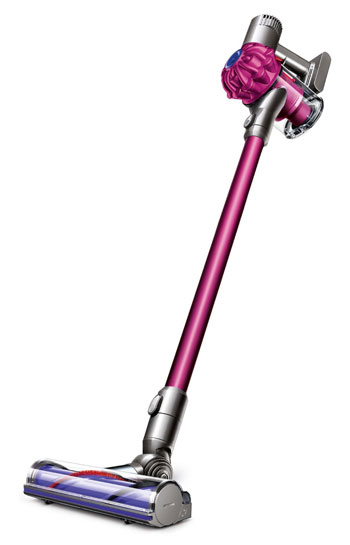 Dyson V6 specs:
Mini soft dusting brush
Floor to ceiling cleaning: lightweight, easy cleaning up in every direction is possible since towards the grip is where the center of gravity of the cleaner is located.
Handheld mode: users could quickly detach the wand for handheld cleaning.
Direct-drive cleaner head: to remove even more dirt, bristles are driven deeper into the carpet by the Direct-drive cleaner head.
Powerful fade-free suction: battery power could offer a run time for up to 20 minutes.
Cord-free: one of the great advantages of this vacuum machine which makes cleaning task very easy with no cord to drag around, plug in or unravel.
Dyson V6 is available on Amazon with a $279.99 price tag.