Wannalisn Review
If you're one of those English language learners who always wanted to better understand native speakers but didn't know how to improve your listening skills, then Wannalisn app could be the right solution for you.
Wannalisn has succeeded in producing an app which uses a fun way to help users improve their listening skills.
Wannalisn features
After picking a signing up for an account in the app and picking a username, you're ready to start your native English exercises.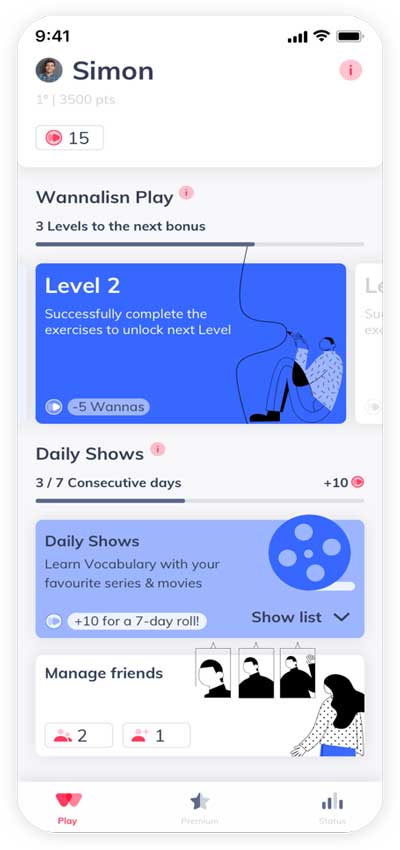 The main interface of the app gives you three key options at the bottom tab which are: 'Play', 'Explore' and 'Status.'
When you hit Play, you could begin your daily listening practice. The education routine begins from the Level 1 and includes short exercises related to Pronunciation Tips, Phrasal Verbs, Mispronounced Words, Common Expressions, etc.
The questions are all in the form of a scene cut from a movie or TV show. Users should select the right answer among the choices given by the app and in the case of a difficult question, they could even use the 'hint' given by Wannalisn.
Levels are very short so that the users don't get tired and could leave the routine whenever they want and come back to continue their practice later.
One of the cool things about learning with this app is that it gives users some points by giving the correct answer to each question. And at any point, Wannalisn users could check out their ranking compared to other users through the 'Status' section.
On the Leaderboard, users could find their rank status calculated based on the day, month or all time activities.
Moreover, in the 'Explore' section, you could find exercise categories which could be selected at any time. This section, contains short English question sessions related to Vocabulary, Listening and Spoken English.
Pros
Micro exercises which are especially useful for people with busy schedules or always on the go
Free daily content
Gaming experience with points and competition between users
Media based and interactive design
Cons
Some interface glitches (e.g. play/pause errors when watching scenes, and so on)
Requiring relatively high bandwidth internet connection due to the video sizes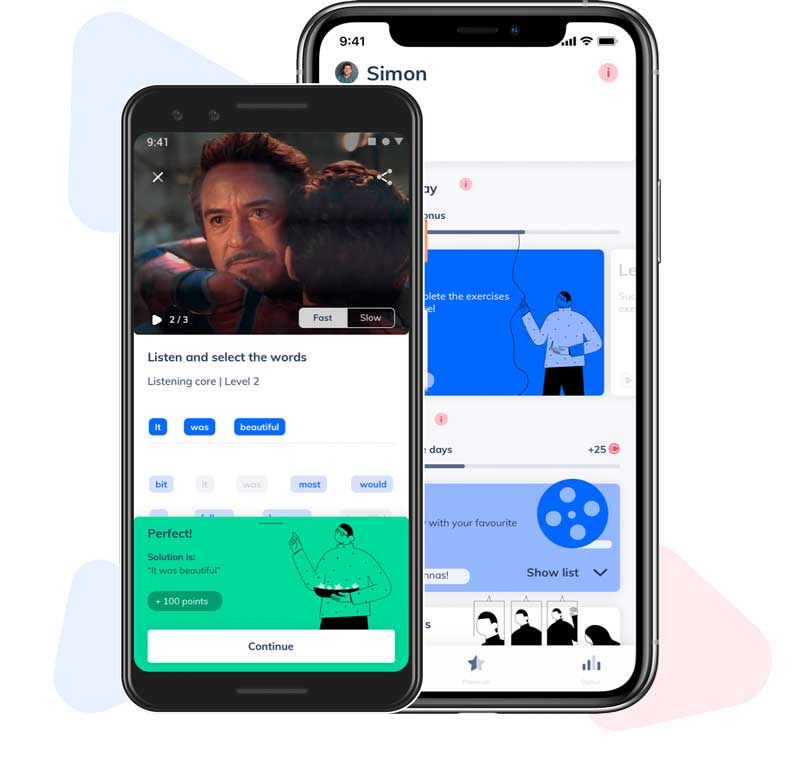 Methodology
Wannalisn approach to teaching language – and more specifically the listening skill which is the main focus of the app – is very interesting.
Since most people, especially the younger generation watch lots of movies and TV series these days, cutting scenes from them and extracting educating content for users is very appealing.
In fact, the app users could simply watch their favorite scenes and characters from popular shows and movies, and learn useful phrasal verbs, expressions, and phrases simultaneously. In other words, the habit of watching lots of TV shows and movies, which many people already have, could become a really effective educational tool.
Wannalisn Premium
Although downloading and using the app is free, but some features and options are locked in the standard version.
In order to get full power of the app and unlock all features, such as having access to all exercises and sections at all times, users could opt in for the 'Premium' version.
How to download?
Users of both popular smartphone systems – Android and iOS – could download and install this useful English learning app on their devices.
iPhone and iPad users could download Wannalisn from Apple App Store while Android users could get it from Google Play Store.
Conclusion
Wannalisn is a must-have app for everyone looking for a fun way to take their English listening skills to the next level. Using this app, you could have a better chance of getting the real practices which could improve your English native understanding skills.