1Password vs Lastpass vs Dashlane Comparison & Review
Are you looking for an effective and an efficient method to manage all your passwords? Then you should take a look at one of the password managers available out there. While taking a look at password managers, you will come across many different options. Locating the best option out of them can be quite overwhelming.
When you go through password managers, you will figure out that 1password, Lastpass and Dashlane are some of the best options available out there for you to consider.
But what about when you want to decide between 1Password vs Lastpass or 1Password vs Dashlane?
We'll review these three options in detail and help you with knowing the most appropriate password manager out of them.
1Password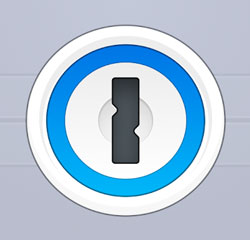 1Password is a modern looking tool, which you can use to store your passwords securely. You will be able to access this tool from your computer as well as smartphone.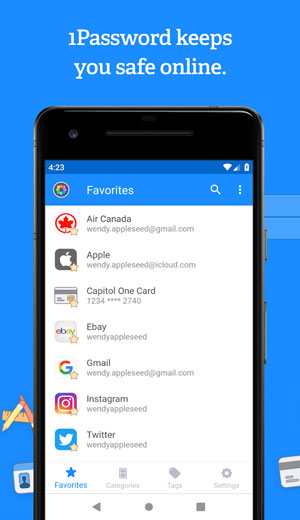 When you are using 1Password, you can sync unlimited number of passwords across all the devices you own.
It provides online as well as offline access. It also comes with email support, security alerts, an automatic password generator a 1GB of secure storage space online.
1Password comes along with an interesting family plan as well. All the family members will be able to share passwords with the help of this feature. If you want to share your Netflix password with family, this is a good option available to consider.
You can also find a dedicated travel mode in 1Password. When you turn on this feature, you will be able to remove the vaults that are marked as now safe for travel on your devices. Hence, you can provide extra protection to the sensitive data that you have.
1Password prices start from $2.99 per month. You could get more info regarding this through their website.
To download 1Password from Android please visit Google Play Store at https://play.google.com/store/apps/details?id=com.agilebits.onepassword
For iOS users, the download link for this password manager would be https://apps.apple.com/app/1password-password-manager/id568903335
Lastpass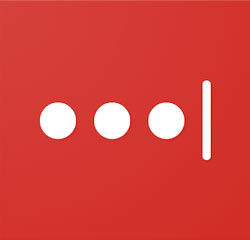 Lastpass comes to you with a large number of configurations and features. When you get hold of the free version of Lastpass, you will be able to synchronize your information with unlimited number of devices.
This is one of the most prominent features that you can gain from the password manager as well.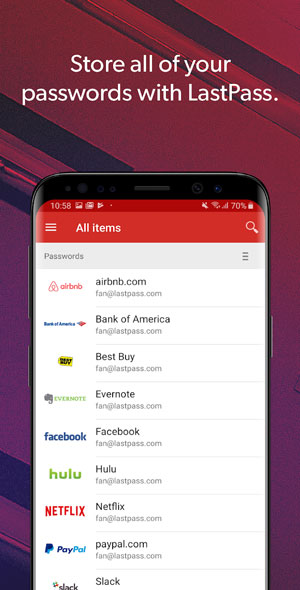 When you use Lastpass, you don't need to download anything to your computer. You can simply get hold of the browser plugin and access its functionality.
It can also provide you with offline access. You can also feed the newly created passwords automatically into your database. Therefore, you will never come across any hassle or frustration at the time of using this tool.
Lastpass comes to you with an automatic password changer as well. This can help you to change the passwords you use on a regular basis and remain protected.
You don't need to worry about changing the password on a regular basis. With Lastpass, you have the ability to set up emergency contacts.
In case of your death, you will be able to allow a person that you trust to get hold of your passwords. And before doing that, Lastpass will send you a reminder as well. If you don't respond to that, the trusted contact assigned by you can get hold of your password.
Please download Lastpass app for Android from https://play.google.com/store/apps/details?id=com.lastpass.lpandroid
For iOS downloads (such as iPhone and iPad) just go to https://apps.apple.com/app/lastpass-password-manager/id324613447
Dashlane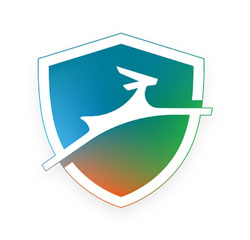 Dashlane is the most expensive password manager out of these. However, you can get a premium service from it at the end of the day.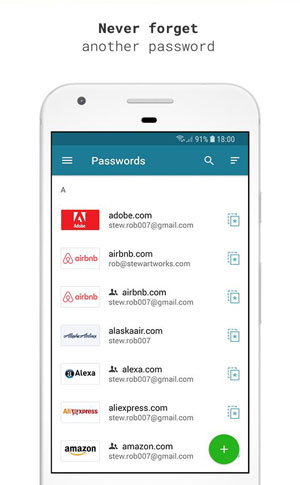 When you take a look at the Dashlane plans, you will notice that there are two plans named Premium for $60 per year and Premium Plus for $120 per year.
You can use any of these plans and store unlimited number of passwords. You can also get unlimited data storage along with breach monitoring.
There is a free version of Dashlane as well. While using the free version, you can only save 50 passwords in just one device.
Some of the most innovative password protection capabilities that come along with Dashlane include ability to take backup of your account, two factor authentication and unlimited password sharing.
It also comes with an unlimited VPN service. Therefore, you can browse the internet securely with the help of this tool.
Dashlane for iPhone could be downloaded from https://apps.apple.com/app/dashlane-password-manager/id517914548
And Android users could get Dashlane app from https://play.google.com/store/apps/details?id=com.dashlane
Final words – What's the best option for you?
As you can see, the three different password managers that we discussed in here come along with different features. It is up to you to take a look at their features, along with pricing plans and get your hands on the best password manager.
If you are willing to pay money out of your pocket, Dashlane is the best option available to consider. It comes to you with many useful features, such as an unlimited VPN service.
People who are planning to get the most out of their password managers are strongly encouraged to go ahead with Lastpass. You can get a smooth experience, even from the free version of Lastpass. You can use it on a variety of operating systems as well.
Even though you cannot get any flashy designs with 1Password, you will be able to store passwords and manage them via a user-friendly interface. It can provide a great help to you with protecting the passwords, especially when you are traveling.