Best 4 Peephole Viewer Camera Reviews
Peephole cameras or digital peephole viewers are simple but helpful digital equipment which could easily solve the difficulty of viewing through a narrow hole in the door to see outside. Here we review 4 top items in this category.
When shopping for a peephole camera there are several factors which should be considered in order to get a great product.
The first factor is if the digital peephole replaces standard sized peepholes in doors or need additional work to install. (All of the models reviewed here could replace regular peepholes)
Second factor which might not be important for some users is the ability to record videos/pictures. Some peephole camera models offer this functionality and some don't.
After that, LCD screen size and image quality should be taken into account.
And some of the specifications might not be note in the official descriptions of these products – especially the negative ones. For instance, when reading some reviews from actual buyers, we noticed that in some peephole cameras, it takes some time for the screen to show up a camera image after the button is pressed.
Brinno PHV1325 Digital PeepHole Viewer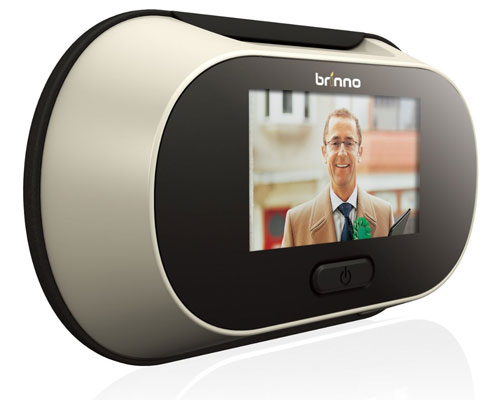 As one of the best-selling peephole camera systems at Amazon, Brinno PHV1325 is a great solution for seeing through hard to see peepholes. Users of any height could benefit from this device which displays an easy-to-see image.
Here are some of the features of Brinno peephole camera:
2 AA batteries are required (included in the box)
Door thickness: 1-3/8″ to 2-1/4″
Low battery light alarm
LCD screen 10-second turn-off time
Zoom & regular modes
Easy & quick installation
Fish eye distortion elimination
Low-light images compensation
Simple one-button operation
To get more information on details and price please visit https://www.amazon.com/Brinno-PHV1325-Digital-PeepHole-Viewer/dp/B002QGU8D0
Eques Digital Door Viewer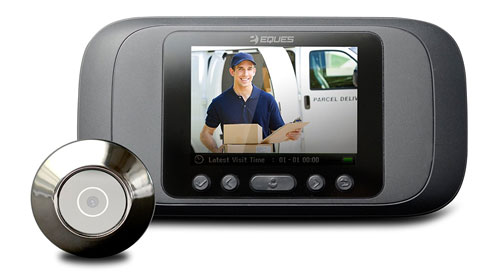 This digital door viewer/peephole made by Eques is one of the top rated products in this category which could easily replace the current regular peephole. Mounted behind the peephole, the indoor LCD monitor displays the visitors.
This digital peephole is suitable for doors with 35-110mm thickness.
Other specifications and features include:
External memory: up to 32 GB micro SD card
Battery: Alkaline battery (3 AA) with up to four months life
Supported door hole diameter: 12-28mm
Camera view angle: 70°
Display size: 2.8'' LCD screen
Easy 5-minute installation
Anti-peeping: in order to block any visitor peeping from outside, it comes with a reflective mirror.
Video and picture recording (no smartphone needed)
Please note that this product doesn't have any internal memory. But, as currently mentioned on Amazon website, it ships with a free 8GB memory card pre-installed in the device.
In order to buy this peephole camera for less than $60 please go to https://www.amazon.com/Eques-Digital-Door-Viewer-Security/dp/B06VX3SK2B
Awakingdemi 3.5 inch LCD Peephole Viewer Door Eye Doorbell Color IR Camera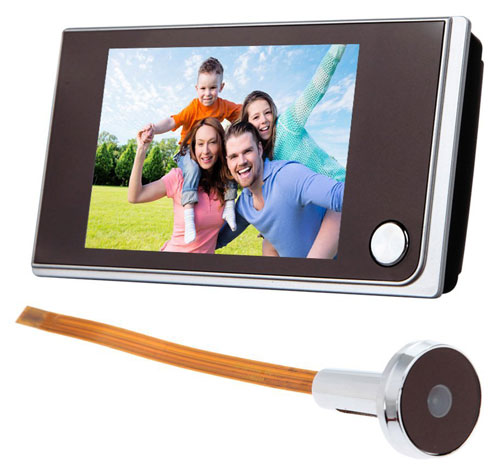 Unlike some other models, this peephole viewer by Awakingdemi has no feature for taking videos or pictures but provide a live camera view of outside.
Specs and features:
Net weight: 197g
Diameter (camera outdoors): 30mm
Indoor device size: 120x62x20mm
Door thickness: 35-100mm
Door hole diameter: 14-28mm
Power: AAA batteries (4pcs)
Function: low power alert, energy saving
Sensor: CMOS (2 Mega)
Screen size: 3.5" LCD
Material: zinc alloy
Included in the package are a metal bracket, 3 pairs of screw, an indoor unit and an outdoor unit.
Please note that the batteries are not included with this product. So they should be bought separately in order for this peephole device to work.
It costs about $40 to purchase this digital door eye from Amazon through https://www.amazon.com/Awakingdemi-Peephole-Viewer-Doorbell-Camera/dp/B01DW7I6TO
Cheesea Hidden Front Door Digital Peephole Viewer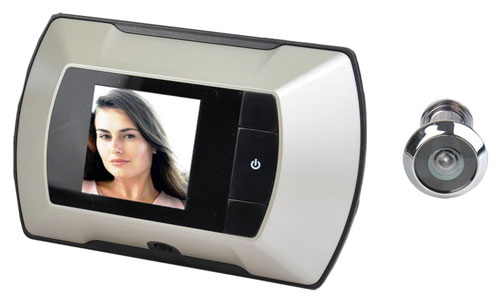 Replacing a current door peep hole, this Cheesea digital viewer allows users to have a nice look at outside through the monitor very easily.
Features:
Power: AA Battery (2pcs)
Resolution: 300000 Pixels
Door thickness: 35-60mm
Display size: 2.4" color TFT screen
Size: 9 x 13 x 2.5cm
1 year warranty
These items are included in the box: a manual, a peephole barrel, a based flange, a peephole lens and a peephole viewer.
For about $40, users could buy this peep hole viewer with camera from https://www.amazon.com/Digital-Peephole-High-Definition-Doorbell-Security/dp/B06ZY5MR6B