7 Best Digital Peephole Viewer Camera Reviews
(Updated August 2020) Front door Peephole cameras or digital peephole viewers are simple but helpful digital equipment which could easily solve the difficulty of viewing through a narrow hole in the door to see outside. Here we review 7 top items in this category.
With no further talk, here is our list:
1. XTU Wireless Video Doorbell Camera with Chime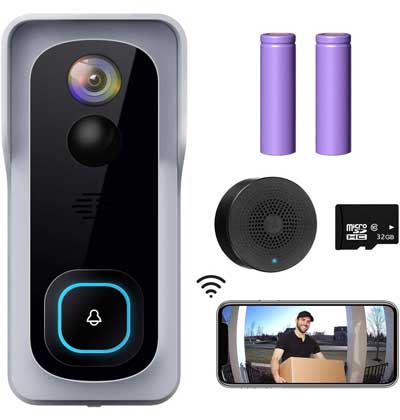 If you're a fan of tools with easy and quick installation then this digital doorbell is definitely suitable for you.
Just install the viewer wherever you want and then connect it wirelessly to your smartphone or tablet through the special app – CloudEdge App.
The good news is that this app is available for both iOS and Android devices and could be downloaded from Apple App Store or Google Play.
Other features include:
Local storage & secure cloud storage
Two-way audio
Instant alerts
PIR sensor
Rechargeable battery
Waterproof
Motion detection
Night vision
1080P full HD
Easy to use & install
100% cordless & wireless
Just compatible with 4GHz Wi-Fi routers
Please note that this digital door peephole is compatible with micro SD cards. In fact, one of the included items with this product is a SD card with 32GB capacity.
You could also use your own micro SD with 128GB maximum capacity.
And it's good to know that this video doorbell is recording video only when the sensor detects human body motion. Otherwise it doesn't record any videos. In other words, it's not a 24/7 recording home security camera.
In order to buy this peephole camera for less than $90 please go to https://www.amazon.com/dp/B083GKZWVX/
2. Ring Peephole Cam – Smart Video Doorbell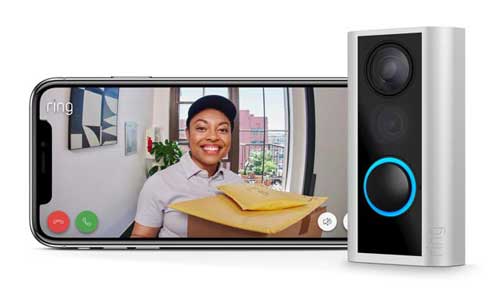 Triggered by the motion sensors, doorbell button or knocking on your door, this Ring Peephole Cam could send you alerts on your PC, phone or tablet no matter where you are.
You could also share your photos and videos from your front door, and record all your videos if you subscribe to the "Ring Protect Plan" – which could be separately purchased.
Some of the Ring Peephole Cam's other features are:
Advanced motion detection
Could be connected to Alexa
No drilling/wiring is necessary – easy to install
Speak to, hear and see visitors wherever you are
Removable battery pack
Real-time mobile notifications
You could have this peephole camera built by Ring for less than $80 if you order it from Amazon through https://www.amazon.com/dp/B07WHMQNPC/
3. Brinno Front Door Peephole Security Camera SHC500
As one of the best-selling peephole camera systems at Amazon, Brinno SHC500 is a great solution for seeing through hard to see peepholes. Users of any height could benefit from this device which displays an easy-to-see image.
Here are some of the features of Brinno peephole camera:
4 AA batteries are required (included in the box)
File format: AVI , JPEG
Storage: micro SD card (32 GB max.)
7" TFT LCD screen
View angle: 40° zoom mode, 90° regular mode
Door thickness: 1.10" – 2.28" (28mm – 58mm)
Working up to six months long or 3000 triggers
Easy & quick installation
Concealed design
Digital visitor log
User manual, 4 batteries, tightening tool, base flange and peephole are included in the box.
To get more information on details and price please visit https://www.amazon.com/dp/B087M79YDL/
4. Anself Digital Door Viewer & Doorbell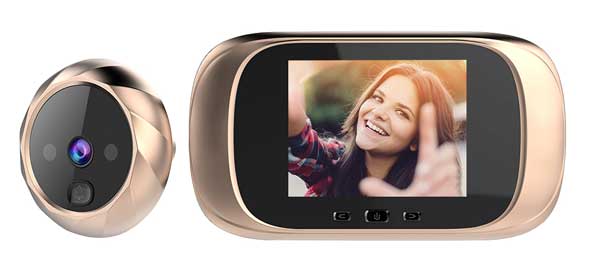 If you want to replace your current door peephole with a digital one which is both affordable and useful, you could try this digital doorbell & door viewer from Anself.
Another advantage of this cool security gadget is that you don't need a separate memory card in order to use it since it comes with a built-in memory.
Other features include visitor records deletion, power-on status settings, and photo browsing.
Other specifications of this door camera could be seen below:
Color: silver, gold (optional)
Mounting hole size: 14 – 22mm
Door thickness: 35 – 120mm
Power source: 4 AAA batteries (should be purchased separately)
Memory: built-in cyclic storage
IR lights: 2pcs, 850nm
Camera resolution: 0.3MP
LCD resolution: 320x240p
Display size: 2.8" LCD screen
Order this cheap digital peephole viewer from Walmart at https://www.walmart.com/ip/Digital-Door-Viewer-Peephole-Door-Camera-Doorbell-2-8-inch-LCD-Screen-Night-Vision-Photo-Digital-Door-Monitoring-for-Home/445567699
5. Digital Doorbell Security Camera & Peephole Viewer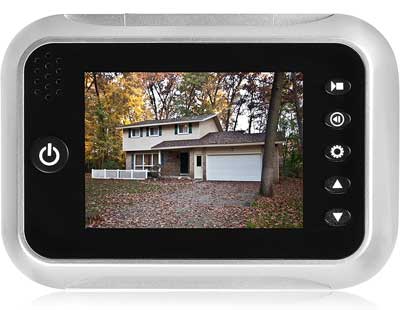 When you get this security camera for your door, you have everything you need to monitor your front door within minutes.
Just install the indoor and outdoor devices easily and then wait until someone hit the doorbell. Their photos are saved in the SD card after being taken by this digital doorbell.
Look at the following for more features:
'Do not disturb' (DND) function
Nighttime & daytime clear image
120° lens
OV HD color sensor
Camera doorbell
4 IR LED lights
Get this front door camera and doorbell from Amazon by check out https://www.amazon.com/dp/B00EIA4GJY/
6. Zerone Digital Peephole Viewer Camera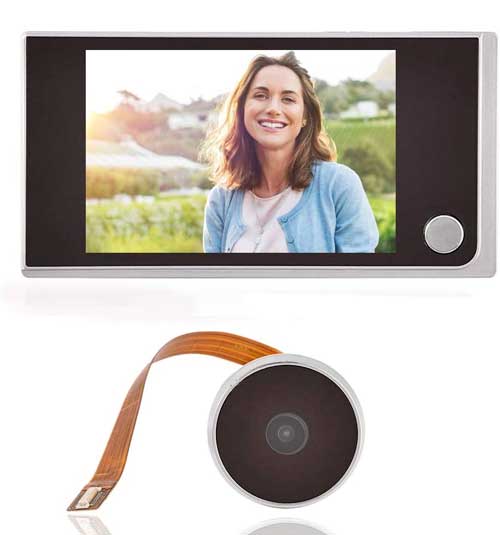 If you want something very similar to your current optical peephole – in other terms, a hidden digital peephole – then this Zerone front door camera could be a great choice.
At any time, the screen could be turned on to see what's going on behind the door. Then, if there is no operations after 15 seconds, the standby state is triggered automatically.
Here are some this Zerone peephole door viewer:
One button start
TFT color display (3.5" screen)
Wide view angle
Hidden style peephole
480×320P resolution outdoor camera
Visit https://www.amazon.com/dp/B07MTGH2NQ/ to order this door viewer camera from Amazon.
7. Awakingdemi Peephole Viewer Door Eye Doorbell Color IR Camera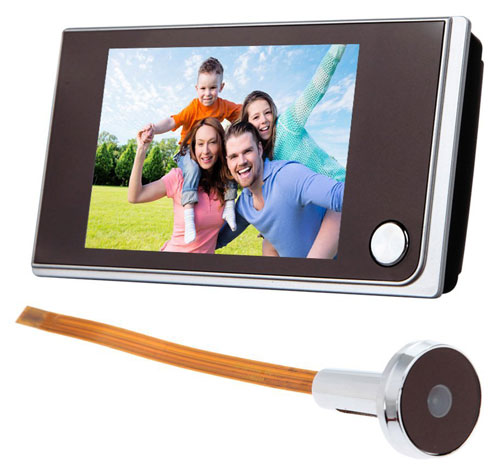 Unlike some other models, this peephole viewer by Awakingdemi has no feature for taking videos or pictures but provide a live camera view of outside.
Specs and features:
Net weight: 197g
Diameter (camera outdoors): 30mm
Indoor device size: 120x62x20mm
Door thickness: 35-100mm
Door hole diameter: 14-28mm
Power: AAA batteries (4pcs)
Function: low power alert, energy saving
Sensor: CMOS (2 Mega)
Screen size: 3.5" LCD
Material: zinc alloy
Included in the package are a metal bracket, 3 pairs of screw, an indoor unit and an outdoor unit.
Please note that the batteries are not included with this product. So they should be bought separately in order for this peephole device to work.
It costs about $40 to purchase this digital door eye from Amazon through https://www.amazon.com/dp/B01DW7I6TO
How to choose a peephole security camera for your front door
It's recommended that you consider a variety of factors when you want to buy and install a digital door viewer camera for your home or office:
Power source: while digital peephole cameras are mostly powered by batteries, many use rechargeable ones. So, take note the type of battery when you review the models.
Front door compatibility: current peephole size and door thickness should be notices before ordering anything in order to be sure that the new peephole are supported by your front door.
Audio: if having audio is crucial for you look for devices which bring that to you as some models only record videos.
LCD screen/smartphone connectivity: some models only connect to mobile – or other wireless enabled – devices while some models come with their own indoor LCD screens. Think carefully and decide which option is best for you because each of these types could have their own benefits and setbacks. When choosing mobile compatible devices, see if it supports both iOS – such as iPhone and iPad – and Android devices.
Storage type: some models take use of built-in memories while other might need additional micro SD card which might be included or bought separately.
Night vision: some of these home security cameras might not offer night vision which could be a big disadvantage.
Viewing angle & distance: this is another important factor which plays a big role when image quality and clarity is considered.
Price: the price of the device could be the deciding factor for many people, so have affordability in mind when browsing different models and types of digital peephole viewer cameras.
And some of the specifications might not be noted in the official descriptions of these security systems – especially the negative ones. For instance, when reading some reviews from actual buyers, we noticed that in some peephole cameras, it takes some time for the screen to show up a camera image after the button is pressed.