How to Edit a PDF Document on Mac OS X
These days a lot of users need to edit their PDF files due to business, academic, etc. requirements. Here we present a number of methods to make changes to Portable Document Format or PDF documents.

Wondershare PDFelement for Mac OS X
As an easy PDF editing solution, we chose Wondershare PDFelement software. In addition to editing PDF documents, the program provides a wide range of other useful options. 

These features include: advanced multi-lingual OCR options allowing to edit scanned PDF or image PDF, powerful pages and images editing tools, maintaining original document format while modifying file, applying original lines and text style when adding new content, and an editing environment like Microsoft Word for deleting, adding and entering text.
Download this PDF text editor for Mac and install it on the system (compatible with Mac OS X 10.12 (Sierra), 10.11 (El Capitan) and 10.10 (Yosemite)).
Please note that iOS and Windows versions of the application are available as well on the website.
When ready, follow these steps:
Step 1 – add files to PDFelement application after launching the program. Under the blue area of the app, there is a button named 'Edit PDF.' The program would open the PDF file after clicking on that button. Also, Home window could provide an alternative way to open files once 'Open File' button is clicked by users. The PDF file which needs to be edited could easily be searched and opened through the file finder. 
Step 2 – To enter editing mode in the application, click on 'Edit' button which could be found on the top toolbar. Then, in order to delete, insert or modify text, simply click on any text block in the document. 'Line Mode' and 'Paragraph Mode' could help users to smoothly and easily edit text. 'Edit > Add Text' could be used for adding new text block. To do that, simply draw a text block using the mouse. Next, inside it type in text. Keyboard shortcuts are also available in the program. For instance, pressing 'Delete' key after selecting any text in the document would cause the application to remove unwanted text. 
Step 3 – users have to save their work after it's finished in order to permanently apply the changes to the PDF document. To do that, the 'Save' option should simply be clicked from the 'File' menu. 
Now the PDF editing is done on OS X.
Other than PDFelement, there are other Mac PDF tools and apps for Mac which could be used to edit text or make changes in documents:
Preview
The built-in PDF reader for OS X is Preview app. In fact, whenever a PDF file is double clicked on the computer, this application will open it.
Other than reading documents, this app is able to make simple changes to them. This is done using a feature called 'Annotations Toolbar' (or 'Markup Toolbar' in El Capitan and Yosemite) in the app. Please note that sometimes this option is hidden, so in order to get access to it, it first needed to be displayed using the 'Show Annotations Toolbar' option from the 'View' menu.
As the name of the toolbar suggests, it only provides basic tools for annotations. So, for mode advanced editing, this app isn't much useful.
PDF Expert
With advanced annotation tools and clean interface, PDF Expert is another great solution for those looking to be fully in control of their PDF files.
Some of the features of the program include: merge PDFs, extract pages, reduce file size, sign documents, fill out forms, edit & annotate text.
The editor has versions available for OS X, iPhone and iPad which could be accessed through the official website.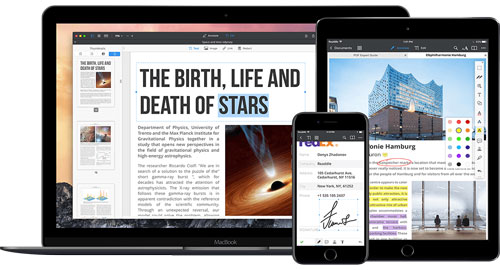 PDF Toolkit
This is a simple software which could be used to convert Word files into PDF and vice versa.
The trick is here to first convert a file into Word document, edit it and then convert it back to PDF.
Overall, more than 60 file formats are supported by the program.