Gaming Mouse Grips: Palm vs. Claw vs. Fingertip Comparison
When it comes to gaming mouse – and even using mouse in general – there are 3 main styles for gripping: fingertip, claw and palm. Here we discuss about each grip style so that you could better compare these methods and decide which is more suitable for you.
Before deciding between palm grip vs claw grip or fingertip grip vs palm grip, it's better to know each method better in details:
Palm grip
In this type of mouse grip, much of the fingers and most of the palm contact the mouse directly. It feels comfortable for most people, and that's why it's the most popular type.
On the other hand, instead of faster wrist movements, slower arm movements are in charge of controlling the mouse. For many, it translates into accurate and smooth cursor move.
Therefore, if you're a fan of this grip type you should consider a mouse which offers large enough area for resting your palm, and also perfectly fitting your left or right hand.
Pros
Compatible with most gaming styles
Much easier to start using and adapt
Most comfortable and most natural for most gamers/users
Cons
Slower trigger response times
Slower reaction time
Claw grip
When you reduce the contact area in the palm grip to just the start of the palm and fingertips, then you'll have the claw grip.
In addition to its claw-like shape, the right and left click mouse buttons act as contact areas for the fingers.
As you could see here, compared to palm grip, better wrist movements are allowed in this position, since the mouse is not directly contacted by the majority of the palm.
Pros
Suitable for PvP, FPS and games needing quick reactions
Accurate and quick button presses by fingertips
Having an advantage in precision and speed
Lighter style of grip
Cons
Faster wrist and hand fatigue
Higher learning curve
Fingertip grip
You have the smallest contact area among the three types of grip in fingertip one: just the fingertips. Since there is no contact between your palm and mouse – most of the times at least – it's much easier to do fast moves and lift the mouse with this position.
So that's why most gamers who use fingertip mouse grip prefer a lightweight mouse which could provide them with better fast movements by their fingers.
Pros
Suitable for PvP, FPS and games needing quick reactions
Accurate and quick button presses by fingertips
Probably having the highest advantage in precision and speed
Lightest grip style
Cons
High wrist and hand fatigue
Using this grip, larger mice could be controlled harder with smaller hands
Steepest learning curve

How to find a suitable mouse for your grip style?
There are specific rules for how to select the proper gaming mouse for your preferred type of grip.
For instance, a higher profile mouse with a rounded back might be suitable for claw mouse grip, while low-profile, smaller ones act better as fingertip grip style ones.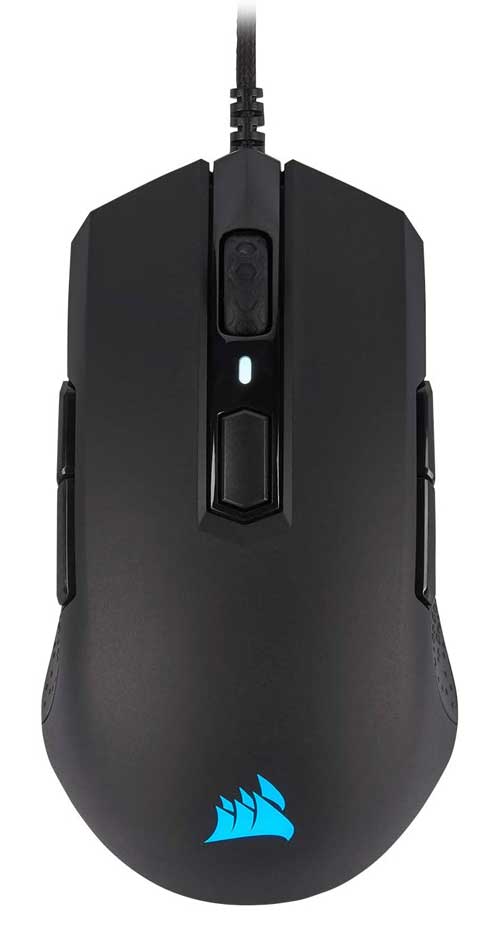 The good news is that there are high quality multi-grip mice out there which allow users with different grip styles to enjoy their game playing experiences while using these comfortable gaming accessories.
One of these great products is Corsair M55 RGB Pro mouse which is a multi-grip and ambidextrous mouse with a number of other great options.
This Corsair mouse comes with 8 programmable buttons and a braided cable making it suitable for intense gaming sessions.
High accuracy tracking is another great feature of this mouse enabled by its 12,400 DPI optical sensor. Moreover, it only weighs 86 grams.
Other great choices for a mouse supporting different types of grips include: