Epson 5050UB vs 5040UB vs 5030UB Review & Comparison
When you are looking for the best projector for amazing home cinema experience, you can take a look at the Epson 5050UB, Epson 5040UB and Epson 5030UB. All these projectors are very popular among many customers these days. Most people are satisfied with all features and benefits from those devices.
In order to choose the best unit for yourself, you can take a look at this article now. You can read some pros and cons about those devices. By looking at these pros and cons, you will be able to compare these projectors. You will be able to choose the best projector that is suitable for your home theater system.
It might be better to look at each projector before comparing 5030UB vs 5040UB vs 5050UB.
Epson 5030UB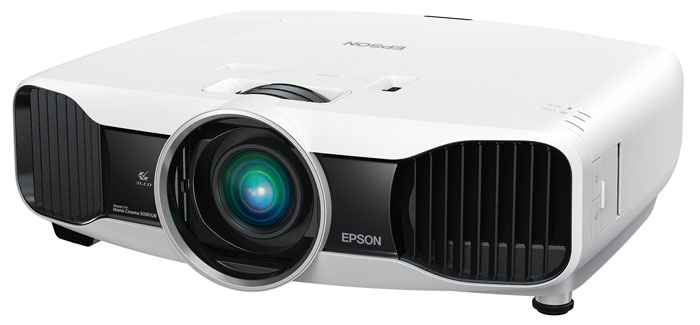 This is one of the most popular projectors from Epson. This projector is suitable for any types of home theaters with THX and 3D mode. The image quality of this projector is excellent. The picture will look good during the day. This projector has high brightness and contrast ration that is about 600,000:1. Its super-resolution technology can make you enjoy great movie experience when using this powerful device.
Pros
1) Full HD 1080p widescreen performance
This projector is very suitable for you who want to get incredible experience. It is equipped with its widescreen peformance. You can use this projector for projecting movies, games, and any other types of films. This device is able to project up to 300 inches on any walls or screens.
2) Special THX Mode
This is another great feature that you can enjoy from this home theater projector. This projector is able to create high quality image on any screens. There are some good performance standards that are added to this projector, including resolution, color gamut, black levels, and also good signal processing. All of these features are specially used, in order to create incredible image quality from this projector.
3) No rainbow effect on the movie
Epson 5030UB can support 3LCD technology. This is another good feature from this projector. It can eliminate the effect of the rainbow on the movie, especially when the projector is used in the long time. You will never get disturbed when watching movies with this projector.
Cons
The image lacks detail in fast paced movies
If you love details on your movies, you may find this disadvantage from this device. This Epson 5030UB lacks detail in any fast paced movies or games. You are going to lose some details in certain movies, such as basketball or football games. It can be caused by its refresh rate from this projector.
To get more details and pricing info please check out Amazon page at https://www.amazon.com/Epson-Home-Cinema-5030UB-Discontinued/dp/B00F144HYA
Epson 5040UB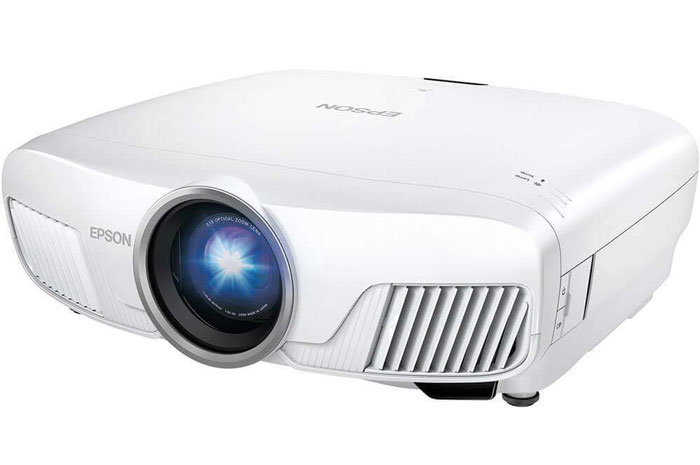 This is another popular projector from Epson. There are some useful features that you can find from this powerful device. This home cinema projector can provide amazing image quality. One of the most popular features from this device is the 4K enhancement technology. This feature can output a 4K signal on the HD matrix projector. Its ultra HD native resolution can make you enjoy your movies from this incredible projector.
Pros
1) Amazing image quality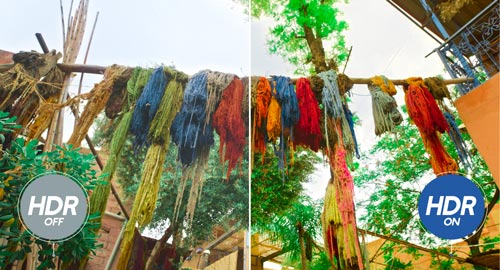 This device is specially created to help you enjoy incredible image quality. This projector can deliver HDR content with extreme wide range of brightness level. This feature can provide real-life color on any of your favorite movies.
Epson 5040UB also has brilliant color rich performance, so it can display the whole sRGB color space.
2) Three dimensional picture
This projector also comes with bright 3D drive. This powerful system allows you to have bright 3D projection from this device. It means that you can watch any of your favorite movies in 3D version. All objects are going to look real when you use this powerful projector.
3) Wireless HDMI system
This is another benefit that you should enjoy from this powerful device. This device has wireless HDMI system. You can stream a full HD movies wirelessly from your own laptop or other devices. The installation process is relatively easy, so you can install this projector at anytime you want.
Cons
Noise from the cooling fan
This is the only drawback that you can find from this projector. Some people complain that they can hear noises from its cooling fan. However, this drawback will never reduce the overall movie experience from this projector.
Generally speaking Epson 5040UB is better than the Epson 5030UB. You can purchase this projector, especially if you want to have great movie watching or gaming experience.
This great 4K video projector by Epson could be purchased from Amazon through https://www.amazon.com/Epson-Home-Cinema-5040UB-Enhancement/dp/B01IO0QWJA
Epson 5050UB
A new 4K projector from Epson that is very similar to the previous model, 5040UB. Here are the main features of the device which obviously are not much different than its predecessor.
Features
Precision HDR adjustment (10-bit HDR)
Epson Ultra black technology
Outstanding brightness (2,600 lumens)
Dynamic contrast ratio (1,000,000:1)
Digital imaging processing
4K resolution processing
True 3-Chip design
And in terms of 5050UB vs 5040UB comparison, the main improvements include enhanced HDMI 2.0 support, improved 3-axis motorized lens, better HDR support (HLG, HDR10 and SDR detected automatically), better 4K technology (higher speed, more output and better accuracy), and more brightness (100 lumens).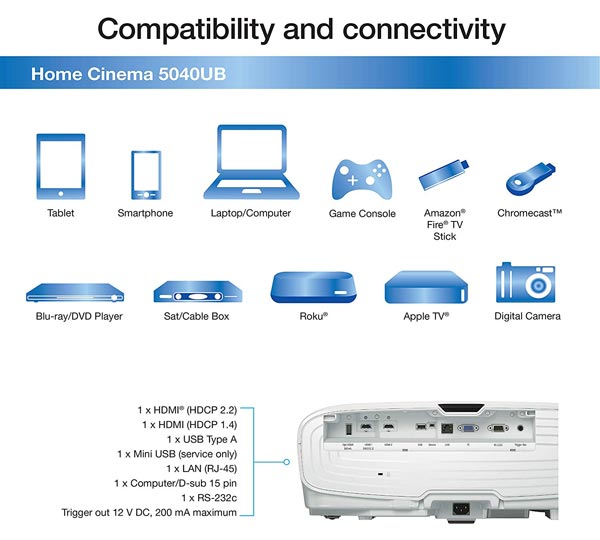 And users could be sure about connecting their devices to 5040UB and 5050UB since chances are very high that there will be no compatibility problem.
Digital cameras, Apple TV, Roku, Cable/Sat box, DVD/Blu-ray player, Chromecast, Amazon Fire TV Stick, game consoles, laptop, smartphones and tablets are among the most popular devices which could easily be used with these two Epson projectors.
That's why these could be ideal options for different usages such as home, business and education.
To learn about the 5050UB price and get more detailed information about this Epson projector please visit https://www.amazon.com/Epson-Home-Cinema-5050UB-Projector/dp/B07P7Y3D6G
The box includes quick setup guide, HDMI cable clamps, remote control, power cord and the projector device.