Evernote vs OneNote vs Google Keep Review & Comparison
You might be like most people who are confused when comparing Google Keep vs Evernote vs Microsoft OneNote. If that's the case this article might be helpful for you when deciding which note-taking app is more suitable for you.
Read more to learn more about 3 of the best note keeping apps in the market – all of them free – so that you could choose one suited to your needs more easily when comparing their features and options.
Evernote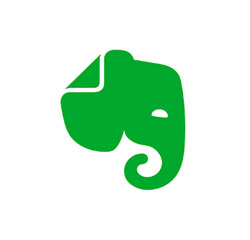 Evernote is probably the most famous note keeping app available for iOS and Android devices. The app offers a huge variety of options and features to help users store, organize and access their important ideas and information in the most convenient way possible.
The usage of Evernote app is much praised by many experts and critics considering it as one indispensable tool for getting work done and taking all types of notes.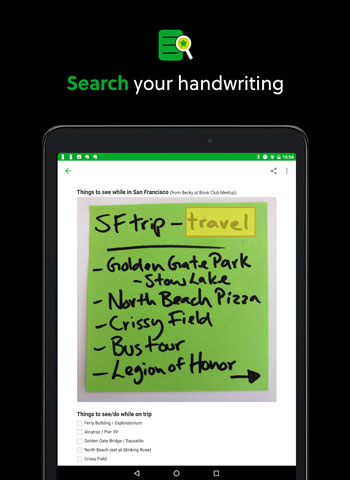 Here you could find some of the main options provided by Evernote:
Home screen widget which makes accessing the app faster and easier.
Helpful options for education purposes: discussing and annotating drafts, memos and notes, highlight academic articles from the web when doing research, keeping track of upcoming deadlines, assignments and exams in the planner.
Parties, weddings, holidays and other life events could be easily planned.
Keep on top of important tasks and activities by setting reminders and writing to-do lists.
Users could easily share their organizer, planner, journals, memos, notebooks and notes with their family, colleagues or friends.
All notebooks and notes could be synced across any tablet, phone or computer.
Different notebooks could be created to organize invoices, bills, receipts and memos.
Attach photos, PDFs and Microsoft Office docs.
Scan and commenting with camera capture is possible on pieces of paper such as sketches, handwriting, business cards and printed documents.
Please note that there is a paid version of the app available: Evernote Premium. Even more features are offered by this pro version including business cards scanning, annotating PDFs, searching inside Office documents, saving emails to the app, offline access of notebooks and notes, unlimited number of devices and 10GB monthly new uploads.
To download Evernote for iOS you could get the app for free from Apple iTunes Store at https://apps.apple.com/app/evernote/id281796108
Android users could also get this note keeping app for free from Google Play at https://play.google.com/store/apps/details?id=com.evernote
Microsoft OneNote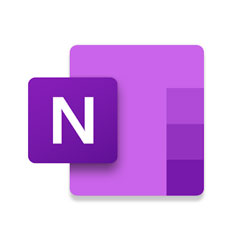 One of the best solutions for everyone looking for a digital notepad in order to organize their ideas, discoveries and thoughts is Microsoft OneNote app.
The app could also be used to help people plan important activities and moments in their life much simpler.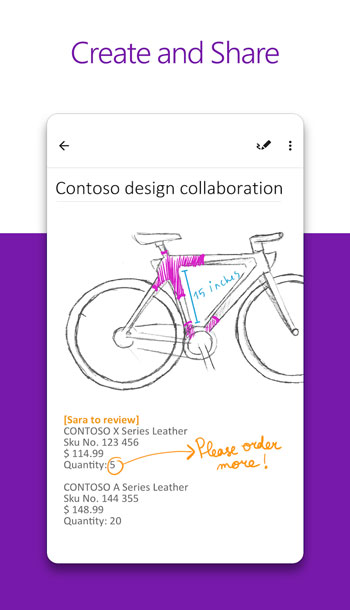 Main features of OneNote include:
The app could be used as a sketchbook, and users could use the touchscreen or a stylus to write notes.
"Convert to Shapes" mode gives users confidence to draw by producing perfectly regular and crisp circles and polygons out of hand drawn shapes. It means that the conversion process is done automatically.
Beautiful drawings and handwritten notes could be created using the OneNote app by having the option to use a great selection of settings and pen colors.
Users could keep track of different activities such as travel planning, groceries shopping and daily activities by creating to-do lists.
If you are a fan of quick memos then take advantage of the sticky notes feature of the app in order to get access to your ideas more quickly.
Different devices could be synced with each other and even to the cloud (SharePoint, OneDrive for Business or OneDrive). That's way it's possible for a group of people or a team to simultaneously work on the same content together.
OneNote could be used as a notepad, journal or notebook.
Images and pictures could be saved to the notes.
People could place their notes and content anywhere they want using the flexible canvas of OneNote.
OneNote for iPhone and iPad could be downloaded for free from https://apps.apple.com/app/microsoft-onenote/id410395246
Android users could also get this helpful Microsoft app through Google Play at https://play.google.com/store/apps/details?id=com.microsoft.office.onenote
Google Keep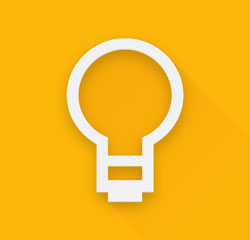 This app is the notetaking solution provided by Google to help people capture their ideas and thoughts in any format and get things done quicker.
The app is even helpful for users to stay focused and even makes useful suggestions for grocery lists.
So don't waste any more time trying to keep organized by yourself and give this useful Google app a try.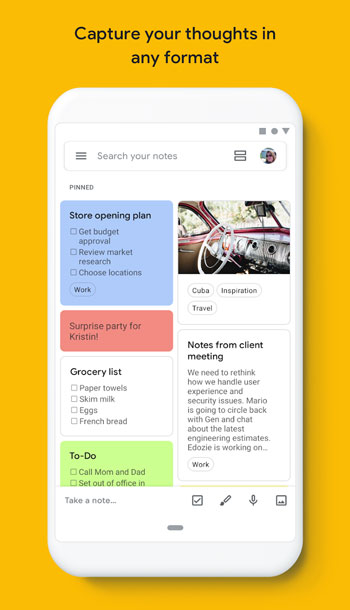 Here are some of the options provided by this notetaking app:
Getting to store and usually forgetting the grocery list? The solution is pulling up grocery lists once at the store using location-based reminders.
To keep thoughts always with you the app makes it possible to sync across all your gadgets including wearables, computers, tablets and smartphones.
Quick and simple organization of notes by coding notes through adding labels and colors to them.
Powerful search which allows for quickly finding anything hard to find among the notes.
Real-time collaboration and note sharing with others – which makes it possible to plan that surprise party you always wanted to do!
No matter if you are in a hurry since Google Keep allows you to capture what's on your mind even when you are on the go. It would transcribe the voice memo you recorded by the app.
Android users could download the app for free from Google Play Store at https://play.google.com/store/apps/details?id=com.google.android.keep
iOS users could also get the Google Keep app for their iPhone or iPad devices through https://apps.apple.com/app/google-keep-notes-and-lists/id1029207872
Conclusion
No matter which note keeping app you want to use mostly on your device and for your important daily activities, it is important to remember that you should choose one based on your needs and requirements. For example, users who mostly want the app for their business needs might one app more helpful than the other.
So don't care much about just popularity or downloads stats of an app and see whether if it's really helpful for you or note.