Top 3 Wireless HDMI Transmitter/Receiver Reviews
A wireless HDMI solution (including transmitter, receiver and sometimes a remote control) makes it very easy to share high quality video and audio between HDMI enabled devices at home or office.
With a wireless HDMI system the possibilities are numerous: watching 3D movies, performing presentations at work, playing video games, and more.
When shopping for a wireless HDMI transmitter or kit please consider these features:
Video (4K or full HD) and sound quality (5.1 or 7.1 surround systems)
Transmission range of the device (especially if looking for an HDMI extender)
Signal compression (better quality if uncompressed signal is transmitted)
Latency time (zero latency is crucial for playing video games and shooting in real-time)
All items included with the box such as the dongle, remote control, connectors, extra cables, etc.
Weight of the device (better if it is just a couple of ounces)
You could always find other wireless products such as security cameras in other resources which could be accessed easily.
Nyrius ARIES Pro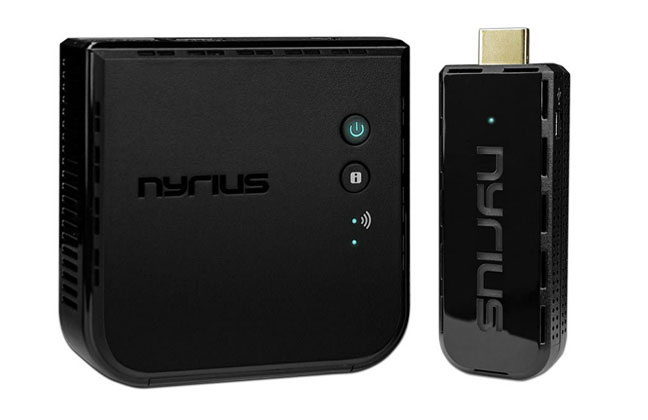 Using Nyrius ARIES Pro, it is very easy and conveneient to watch 3D movies with full HD resolution (1080p) on a monitor, projector or HDTV streamed from a HDSLR camera, UAV/FPV drone, Mac or PC computer, PS4, Xbox One, and so on.
In fact, many gamers choose Nyrius ARIES Pro to play games wirelessly on their TV because of its audio/video sync and zero latency features.
Specs:
To make it more suitable for streaming live camera footage, UAV drones and laptops, the transmitter comes with a compact design.
No WiFi connection or software is required to set up the device. Just plug 'n play, so it is very easy to install.
While transmitting 3D video to a device (1080p resolution), users experience it in real time and with no signal latency.
The product doesn't compress the signal for transmission.
No need for using cable anymore since the product allows for streaming media directly from YouTube, Hulu and Netflix.
There are two editions of Nyrius ARIES Pro available on Amazon: 100ft range ($249.99) and 30ft range ($199.99).
Also, users could buy Nyrius ARIES Prime, a similar product, for $199.99.

IOGEAR Wireless 3D Digital Kit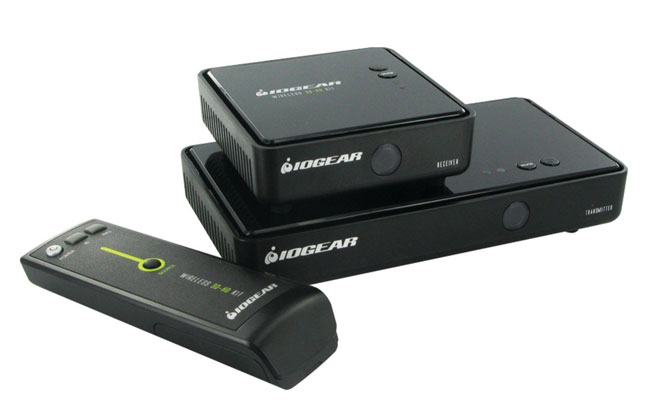 Users could have a high level of convenience, flexibility and connectivity with IOGEAR Wireless 3D Digital Kit. The device is capable of streaming high quality video and audio up to 100 feet. So many devices like a computer, DVR/Cable box or Blu-ray player could easily be connected to the TV using this HDMI switch.
Features:
No loss in quality due to compression since the device delivers content through uncompressed signal
Supporting 1080p full HD video (1920 x 1080 pixels screen resolution), 5.1 surround system and 3D
Adjusting settings with this HDMI solution is very easy since it comes with a remote control. So no extra movements in the room are needed.
The transmitter and receiver still stay connected despite of multiple obstructions and walls between them.
It is equipped with an Athlon 64 2650 processor.
This HDMI transmission system supports 2 HDTV setup. It means that a second location could also receive the HD content simultaneously.
IOGEAR Wireless 3D Digital Kit could be purchased from Amazon website for $190.50.

J-Tech Digital HDbitT Series Wireless HDMI Extender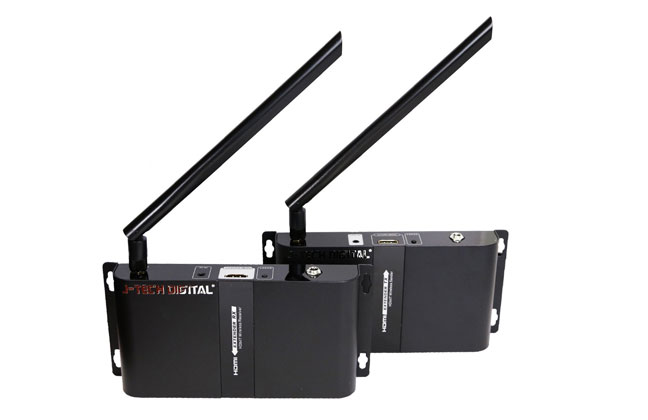 When it comes to wireless HDMI extenders, J-Tech Digital HDbitT Series is one of the most powerful products in the market. The device supports transmitting and receiving 1080p video content (full HD resolution) up to 660 feet (200m).
Some of the other specs:
1-year manufacturer warranty and lifetime technical support
Since it has a 0.3-0.5 latency/delay time, it isn't suitable for video gaming or real-time shooting.
Even at the highest range (650 ft. from transmitter) the picture quality is maintained with the device with reliability and stability.
Users could buy J-Tech Digital HDbitT Series from Amazon website for $345 (see the price below).