Best Refurbished Apple Watch Deals
When it comes to buying consumer electronics such as Apple watches, these items can be extremely expensive when bought at retail value. Buyers may be willing to pay the higher price for items that are essential to their daily life, like smartphone or tablets, but an Apple watch should be ideally bought at a refurbished value.
The reason being is that they are non-essential consumer items, and extremely pricey when bought new, and are surpassed by many other models on the market in terms of value per feature.
Plus, plenty of individuals have bought the watch new, had it for a month and decided it wasn't for them. This allows you to get a great deal on one when bought at a decent quality.
Here are some tips for buying a refurbished Apple watch online and where to get one.
Make sure that the watch appears to be in good condition. This includes checking to see that it is not broken or does not contain any scratches.
Look at return policies from the retailer that you are buying it from. For instance, if you are buying the refurbished watch from the Apple Online Store, Best Buy, Amazon, eBay, or Walmart.
Always make sure to check that the online shop where you are considering making your purchase is an official authorized third-party dealer for Apple.
So where do I get my refurbished Apple Watch?
Upon doing a simple Google search, you are going to pull up multiple online shops that sell refurbished Apple watches. The big players include the Apple Online Store, Amazon, eBay, Best Buy, and Walmart.
The Apple Online Store has refurbished series one, two, and three watches. The Apple Series One is $209.00, the Apple Series Two is $469.00, and the Apple Series Three is $309.00.  As of the writing of this post, there are two Apple Watch Series One watches sitting at $209.00 and $239.00, boasting a $40 and $60.00 savings.


Buy a certified refurbished Apple Watch from Apple.com: SHOP NOW

Walmart is currently selling multiple Apple Watch Sport models ranging anywhere from $189.00 to $219.00 in price. They are also selling Apple Watch Series One and Gen Two for $199.00 and $198.00 respectively.
Bestbuy currently has six Apple Watch Series Two watches on sale ranging anywhere from $209.00 to $599.00. Most sit at the $249.00 – $339.00 range though.
eBay is also selling numerous Apple Watch Sport, Apple Watch Series One, Apple Watch Series Two, and Apple Watch Series 3 models ranging anywhere from $197.29 to $360.00.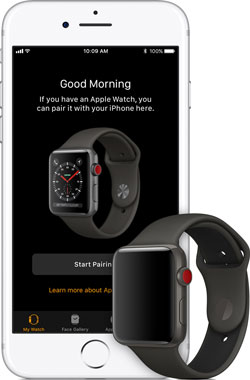 If you want to large pool to select from, then eBay is the place to look as it has an extensive list of models. The only downside with eBay is that you have to bid, so if you don't want to do that, then just try to find items with "Buy It Now" option. Or, check out some of the other listed places.
Any of the above places would be an excellent choice for buying a refurbished Apple watch, but generally, the third-party retailers like Bestbuy and Walmart will have a bigger selection than the Apple Online Store.
Of course, these are not the only places online where users could get refurbished Apple watches, but most of the great deals could be found actually through them.