Best 3 Electric Kettle Reviews (for Tea/Coffee/Pour Over)
Need hot water to use for coffee, tea, hot chocolate or instant soup? Don't have time to boil the water in stovetop kettle? Need a specific temperature to extract the best flavor from your coffee or tea? Then buy and use one of these electric kettles reviewed here.
All these 3 electric kettles are among the top-selling products in their category at Amazon website, with high ratings and lots of positive reviews from users.
Here's our pick:
1- Epica 6-Temperature Variable Stainless Steel Cordless Electric Kettle
The desired water temperature for black tea, green tea, white tea, coffee, etc. could be provided by Epica 6-temperature kettle. And that results in the best flavor for the beverage.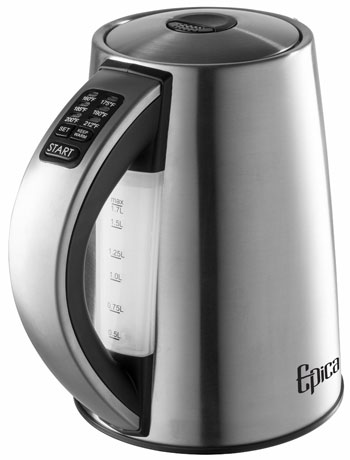 Here are some of the features:
Water level gauge: up to 7 cups of water could be heated simultaneously. And it's very easy to see how much water is in the Epica kettle at any time through a clean window.
One-hand convenience: for filling, the lid opens automatically. Stay-cool electroplate has been used to make the handle to avoid fingers burning. And a quick-grab position for the kettle is easily made possible due to the 360 degree rotating base.
30-Minute keep warm button: for up to thirty minutes, selected water temperature could be maintained by the kettle with this option.
6 Temperature Settings: the optimum temperature could be easily chosen: 212°F for red, pu-erh and black teas, 200°F for fruit and herbal teas, 195°F for French press coffee, 185°F for oolong teas, 175°F for fired green or Chinese roasted teas, and 160°F for Japanese steamed green teas and white teas.
As one of the top electric kettles for coffee in the market, this Epical is available for purchase at Amazon for $39.95.
2- T-fal BF6138 Balanced Living 4-Cup 1750-Watt Electric Kettle
When it comes to houseware products, T-fal excellent quality and design isn't unknown for most people. T-fal electric kettles are no exception.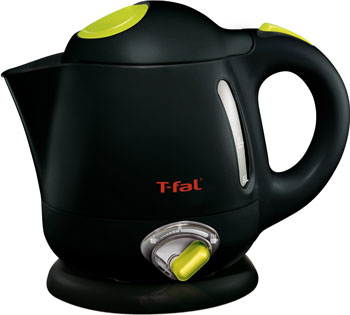 This T-fal kettle features sleek, modern profile with matte black housing. Water level indicators are on exterior part of the kettle. The kettle capacity is 1-liter.
Some specs include:
Removable anti scale filter: water unnecessary impurities are collected by this anti scale and removable filter.
Automatic shut off: when the T-fal kettle is removed from the base or when the water temperature has reached the required degree, the kettle shuts off automatically.
360 degree rotating base: hot water pouring over or prepping could be very easy due to the 360 degree rotating base.
Variable temperature control: the variable heating control could be used to change the water temperature: boiling for black tea, medium for green tea and low for white tea.
Fast boiling: using this T-fal electric kettle, it takes only one minute and half for a cup of water to be boiled. So makes it very quick to have a hot water for instant soup, hot chocolate or tea.
Please note that in order to avoid burning coffee, water in boiling temperature should never be used.
Coming with a one year warranty (limited), T-fal BF6138 sells for $33.68 at Amazon website.
3- Hamilton Beach 40880 Stainless Steel Electric Kettle
Hamilton Beach is one of the popular brands in electric kettle category. This kettle is very suitable for those looking for a simple and fast way to boil water for tea or hot chocolate – but not coffee.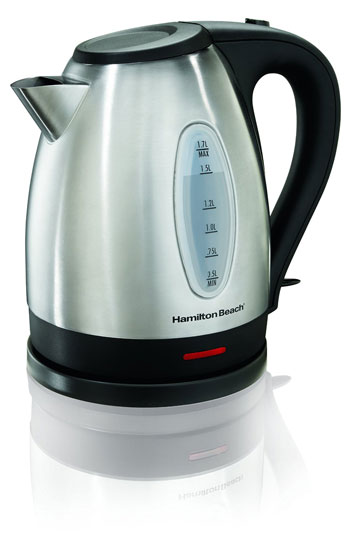 In comparison to most kettles on the market, this Hamilton Beach kettle could contain more water volume: 1.7 liter.
So, it's a great choice for boiling water to prepare tea to serve a larger number of people.
Features:
Fast water heat-up: compared to microwave, this kettle could reach water to a boil faster. That's because of the powerful rapid-boil system used in the electric kettle.
Drip-free spout: makes hassle-free and easy for pouring over hot water.
Concealed heating element
Boil-dry protection & auto shutoff
Cord-free serving
Power indicator light
Push button lid
Removable mesh filter
Please note that since this kettle has no temperature option, it might not be suitable for making hot water for coffee.
Hamilton Beach 40880 kettle has two colors available at Amazon: silver ($25.78) and red ($26.44).