5 Best Digital Calipers Reviews
As one of the most commonly used measuring tools in many industries, digital calipers offer precise object measurements.
Measurements made by digital calipers are more error-free, easier and faster compared to dial calipers.
As a result, you no longer have difficulty regarding reading a caliper, since the value you are looking for is displayed on the LCD without the need to have a special skill or knowledge to understand it.
On the other hands, vernier calipers are more difficult to read but more durable.
Major sizes of electronic calipers are 6 inch, 8 inch and 12 inch.
Here is our selection of top electronic calipers which most of them are best selling items on websites such as Amazon:
1) Adoric 0-6″ Calipers Measuring Tool
If you are looking for a caliper which could help you measure household objects (such as gadgets, jewelry, etc.) then this digital tool is the right choice.
The tool offers 4 ways of measurement: (1) step measuring (length/height measuring), (2) depth measuring (using the long probe), (3) internal measuring (objects' inner diameter measurement), (4) external measuring (objects' outer diameter measurement).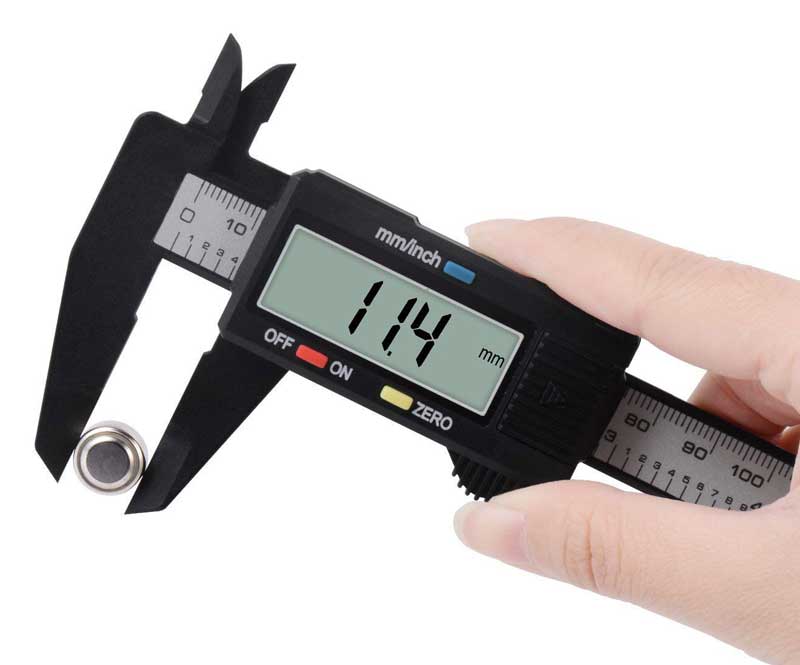 Other features include:
Auto shutdown: if without operation, and to save battery, the tool will go off after 5 minutes.
Large LCD: in order to provide precise results easily and quickly, the device comes with easy-to-read and large display.
Zero setting: to make it suitable for differential measuring, users could start a new measurement just by touching a button.
Inch/mm conversion: save time by using this function to switch between millimeter and inch unites quickly.
Accuracy: ± 0.2mm / 0.01"
Resolution: 0.01" / 0.1mm
Measurement range: 0-6"/ 0-150mm
In addition to a spare battery, a pre-installed battery is coming with this measuring instrument, making it ready to be used the moment it reaches you.
This caliper is durable and portable since they've used composites of plastic carbon fiber to make it.
For about $10 you could purchase this digital caliper from Amazon at https://www.amazon.com/dp/B07DFFYCXS/
2) Mitutoyo 500-196-30 Advanced Onsite Sensor (AOS)

To measure objects with super accuracy and for industrial measurements, we recommend this professional caliper made by the famous brand of Mitutoyo.
It supports both metric and inch units which could be displayed on its large LCD.
To make the instrument resistant to water, oil and dirt, electromagnetic inductive sensor has been used.
The measurement tool could be used to measure step, depth, outside and inside values.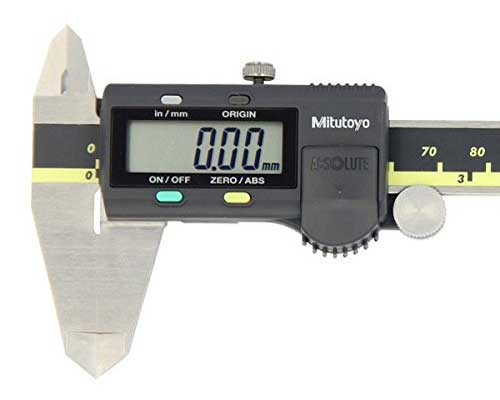 Other specs:
Accuracy: ±0,03mm (more than 200mm), ±0,02mm (equals or less than 200mm)
Low voltage alarm
Zero/ABS key
Battery life: about 18000 hrs.
Digital step: 0.01mm
Range: 0-150mm (0-6″)
The instrument comes with silver oxide battery and protective case.
To purchase this accurate digital caliper or get more details please visit https://www.amazon.com/dp/B00IG46NL2/
3) iGaging Absolute Origin 0-6″ Digital Electronic Caliper
If you need to do accurate measurements but don't have the budget to buy relatively expensive calipers such as the previous one by Mitutoyo, you could consider this iGaging caliper.
Working with the tool is very easy. Once the origin position is set, it keeps track of it. Also, you don't have to reset zero.
Here are the main features:
2 years warranty
Battery life (normal operation): over 2 years
Operating environment : relative humidity: 80%, temperature: 0°c+40°c
Protection rating: IP54
Measuring speed: unlimited
Range: 150mm/6"
Accuracy: 0.02mm/0.001″
Resolution: 0.01mm/0.0005″
For additional smooth movement of the slider, the instrument comes with quality surface finish.
Visit https://www.amazon.com/dp/B00INL0BTS/ to buy the tool from Amazon at the best price.
4) EAGems Electronic Measuring Tool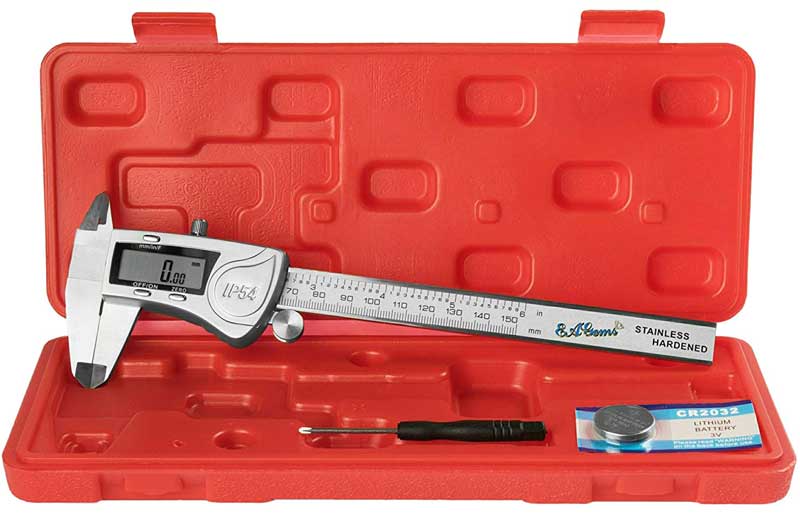 Another precise electronic caliper which allows you to see measured values on its digital LCD display. The range of zero to six inches could be measured with this instrument.
Both inches and millimeters could be measured, like most other similar products in the market.
To keep the battery life longer, auto on/off feature has been available on the tool.
And to be protected from water and dust, it comes with IP54 protection. That's why it could be expected that the tool might have a longer lifetime.
Check out Amazon website at https://www.amazon.com/dp/B00Z5KETD4/ to get this great measurement instrument.
Please note that there is also an IP67 version of this product available at Amazon, which you could find it using the search function of the online retailer.
5) Louisware Electronic Digital Vernier Caliper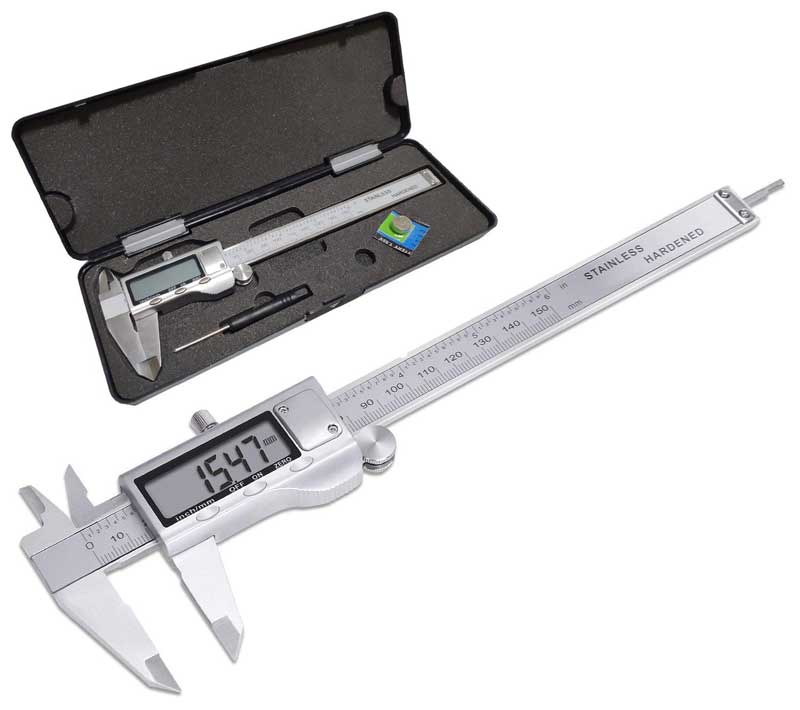 Very similar to vernier calipers, if you want to get that classic feeling when using the tool, try this one.
The tool is made from stainless steel, with a silver color.
Basic functions of step, depth, inside and outside measuring are provided by the digital caliper. In addition, if you want to lock the jaws in place, just use the locking thumb screw.
The LCD display is large and could be read very easily. This is great tool for various automotive and industrial applications.
This caliper gives you a 0.001"/0.02mm accuracy with a 0-6" or 0 – 150mm measuring range.
You could expect these items in the package when you receive your order: a user manual, a mini screwdriver, a sturdy plastic case, an extra LR44 battery and the main measuring device.
Purchase this caliper from https://www.amazon.com/dp/B073XJJRXB/ through Amazon website.