5 Tips on Improving WordPress SEO Rankings
WordPress is one of the most popular content management systems which are installed on millions of domains across the web. That's why search terms such as WordPress SEO are so popular, as knowing these information could lead to better rankings in search engines for the WordPress website and as a result more traffic and possible sales and leads.
Here is a quick SEO check list which could be used for most WordPress websites before making them live:
1. Trustworthy web hosting
When it comes to choosing a hosting provider for your WordPress website, there are lots of options available on the market.
Contrary to the idea of going for the cheapest option, you should consider other important factors as well. These include security, uptime and site speed. That's because as you might already know, some factors here such as site speed could directly affect the performance of your website SEO.
Other important issue with many cheap web hosting providers is security vulnerabilities which could lead to data loss and sometimes negative impacts on your overall site performance including its search engine rankings.
According to WordPress, you could trust these providers. But you could search the market for other reliable providers too while comparing their services and prices.
2. SEO-friendly theme for WordPress
Choosing a suitable theme for your future website isn't an easy task. One of the reasons is that there are lots of free and paid themes available for you to select from.
On the other hand, the default themes coming with the WP installation which are accessible through the dashboard might not be suitable for your needs. That's why you should explore the web for other options.
Just remember, no matter which kind of theme you end up choosing for your website, it's a good idea to check out the demo for various performance factors (such as load speed, SEO, etc.) before making the purchase and installing it on your WP website.
In any case, when you're not sure in any step on how to choose a proper theme or optimize it for SEO purposes, you could take advantage of the SEO services of a reliable and professional SEO agency.
3. SEO plugin for your WP
After installing your favorite theme, it's time to consider using a plugin which helps your site in terms of SEO.
There are lots of plugins on the plugin database of WordPress and other special websites, but most users use either of these two options: 'All in One SEO Pack' and 'Yoast SEO.'
The good news is that both of these options are free. So you could use either of them with no cost to see how they work on your website.
But keep in mind that just installing and activating such plugins doesn't mean that your site is now optimized for search engines.
The main goal of these SEO plugins is to help you better practice SEO rules on your website.
4. SEO-friendly URLs
One of the great things about using WordPress is that it allows you customize the URL structure of your website.
By default, all URLs of your WP site could be similar to this: https://example.com/?p=1234. But because there are no relevant keywords in the URL and user has less intention to click such links while seeing them on search results, these URLs aren't considered SEO friendly.
That's why you should choose another structure for your permalinks in WP which could be done through Dashboard Menu > Settings. Next, choose 'Permalinks' and there you could find a few options.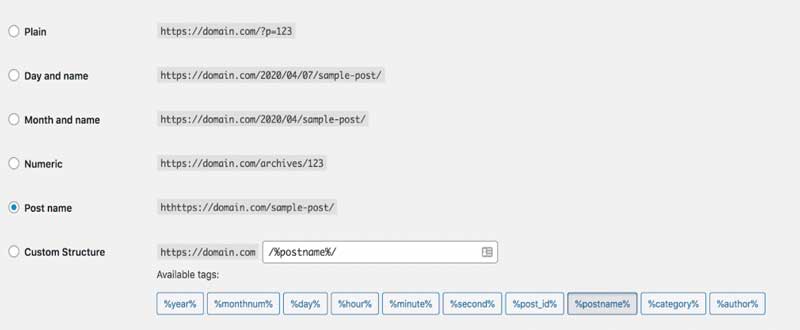 'Post name' could be a great selection for URL structure as it automatically includes keywords from the title of each post and page on your website into your URL.
5. Settings for site's visibility
The first step for ranking any website is that it could be indexed by search engines in the first place.
But for some reasons, such as the website not being complete yet, being under construction, etc., WordPress has an option which could block the website from being indexed by search engines.
The option could be found through the WP dashboard and 'Settings' menu. Then, through 'Reading' submenu, there is an option for 'Search Engine Visibility' which when checked the WordPress discourages search engine bots from indexing your site.

Be sure to uncheck this item if your site is ready to be indexed (and so ranked) in Google, Bing and other search engines.
Conclusion
There are so many factors to consider when it comes to SEO of a WordPress site. What we covered here was just a few tips among lots of facts and rules which are important in optimizing your WP website. Just be sure to start from somewhere and this tutorial could be a good starting point.