How to Design a Logo Online
One the first steps before or right after launching a startup or company is creating a suitable logo. Read on to learn how to design a professional logo for your business online.
Visual memory is very powerful. Human beings can easily remember images than any words. Photos and graphics stock in the memory and are easy to relate later.
If you want consumers to remember your business product or service for the longest time, you need to create impressive visuals. Usually, there is no time with every potential customer. People are busy and won't spend five minutes scrolling images of your company products unless you have already attracted them to the site.
If you are implementing e-commerce business aspects, you have more reason to be specific and make use of the few seconds you have a chance with potential customers.
There is no better way to do it than using a logo. It is a merge of words and images on a single presentation. Remember, it is about creating impression. Therefore, when doing a logo design, you should have your target audience in mind. Not any colors or images are impressive to everyone; research!
Making a logo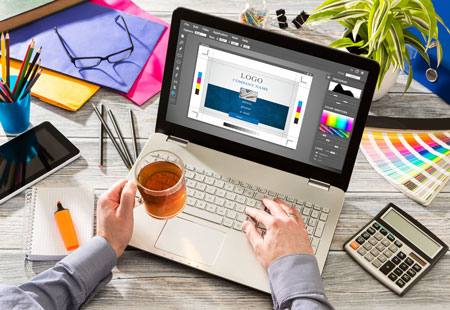 A logo is not about the images. It is about communicating. It is not easy and this is why people do it as a profession. It entails research of market, discerning minds and specific needs of potential customers and designing an appropriate illustration.
A design that attracts women might not be the same with men; also, children and adults are attracted by different designs.
A logo has to be relevant, if you are selling households, you can't use cars on your illustrations. It's too much work if you don't involve professionals.
However, finding a reputable and reliable logo designer can be tedious. Also, engaging a professional will have significant costs. This is why you should consider the online option.
The digital era offers convenient, affordable, and efficient options in every aspect of business; logo designing is not as difficult as it were.
Online designing saves you time and costs. You need to clear up the logo project as first stages of marketing your business and focus on other strategies of growing your company to international levels. Sticking to logo designs for a month or two is not acceptable in this era. While it is important to a business, you will be wasting precious time and losing clients while you wait for a logo. Online designing is fast.
All you need is to research extensively on suitable sites that offer templates or professional guidance on making a logo. With this option, you will be done by the end of the day.
Designhill has an online tool which lets users with no design skill get a great looking logo in a few easy steps.
Logo templates
Most online graphic sites have already designed templates, which you select to add on your style. There are thousands of sites that offer countless template designs. The variety is overwhelming; you won't need to spend time to design from scratch.
If you need specific colors at specific parts, you can easily select on the working area and customize one of the templates. However, you are likely to come across a style better than you imagine. In this case, it will be as easy as click, drag, and drop.
Templates vary in colors, size, and design, if you need a brief logo with specific information and reserved colors, there are lots of choices. If you are leaning on the conspicuous and bright colors depending on your target audience and business objectives, there are endless options. You don't need to spend whole week drawing on paper and changing designs before you think of colors. Save yourself the hassle and time.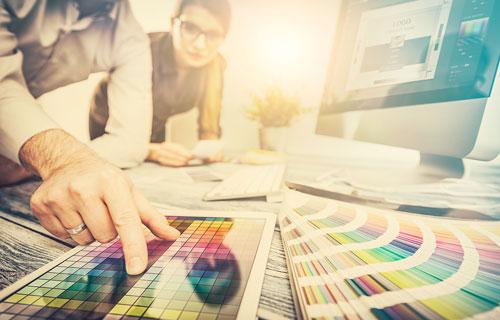 Most of the sites offer templates free. You won't need to download any application or install any special software. No expenses whatsoever. Actually, you will spend zero; only your time. If you have a team of nerds in your company, they can do it in minutes as part of any daily task.
If it were possible, you could change a logo after every two days but that beats essence of a logo. It should be unique and identifying your company.
The approval process should be fast and any omissions or editions should be done quickly on the online option.
Templates make it easy to design logo online.
Tutorials
If you are not contented with templates on various sites, consider DIY projects on YouTube. There are countless videos on how to create logo. Some will direct you to download or buy special software on your computer before beginning the process and others will redirect you with links to online sites as an easy and fast option.
The DIY projects are specific and quick. You won't need a lot of time to watch the videos. The tutors are also striving to be as brief as possible to win viewers hence details in few sentences. You might want to be attentive through the videos because every sentence and word has a meaning. No repetition makes it more concentrated.
Online logo designing options are on purpose. Create and go. Most of tutors and developers on the site are driven by passion. You will rarely come across payment requests on designing a logo online.
Also, you are guaranteed of expertise because only confident professionals will dare set up a site on a specific technical niche as logo designing. You can be sure to implement tried and tested tips for incredible logo designs.