Best 3 Electric Fence Chargers Reviews & Comparison
No electric fence system could be active and running without the right electric fence charger. Here we present and review top 3 choices of fence chargers.
As said before, every electric fence system needs a fence charger which works as the heart of the system. In order to make sure that the needed requirements are satisfied, the following factors should be considered when buying a fence charger:
Type of animal controlled
Weed conditions
Number of wire strands and area of fence
Type of fence line
Fence charger power source
Here are top choices we recommend for those looking for different options and features.
Parmak Magnum Solar-Pak Electric Fence Charger MAG12-SP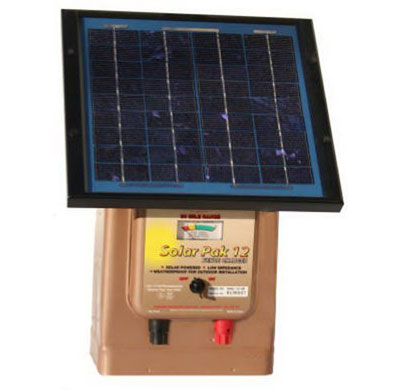 This electric fence charger made by Parmak company is a great choice, especially for those looking for an animal control solution with no operating costs including power bills. That's because the device comes with solar panels and rechargeable batteries.
The main features of the device include:
Ideal for large pastures
Portable, weatherproof outdoor model
Maximum charging: 3.1+ joules – 30 miles of fence
Longer life & maximum power due to low impedance
Powered by sun's energy in day (equipped with state of the art solar panel)
At night, the fencer is powered by 12-volt rechargeable battery (battery included)
Fence condition displayed by performance meter
Users could take use of available online pics – as well as the instructional YouTube videos – in order to set up the fencing.
Check out the price of Parmak Magnum MAG12-SP or purchase it just visit https://www.amazon.com/Parmak-Solar-Pak-Impedance-Operated-Electric/dp/B00099FAJI
Zareba EDC5M-Z 5-Mile Battery Operated Solid State Fence Charger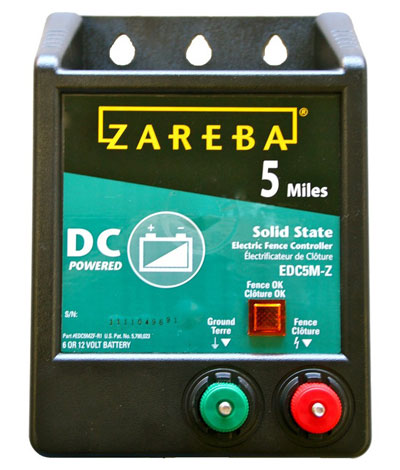 Fence lines around the property remote areas could be powered by this electric fence energizer made by Zareba in the USA.
Pigs, cattle, horses and other short-haired animals could be controlled using this device.
Features:
One year warranty (including lightning-caused damages)
Working state of the fence charger is displayed by indicator light
Digital timing
6-volt battery (should be bought separately)
3KV output voltage
.25 joule output
10-17 gauge wire should be used
Usable in moderate, dry weed conditions
Maximum range: 5 miles
There are two screw-on easy-grip terminal knobs on EDC5M-Z charger which make the installation very easy: the green knob should be used for ground line connection and the red one for the fence line.
Users could be sure that they fence is up and running if the "Fence OK" light on the device is active. This way, fence status could be easily monitored anytime needed.
The device comes with weather-resistant, durable case and connection cables.
To buy this electric fence charger for less than $70 or get more info about it please visit https://www.amazon.com/Zareba-EDC5M-Z-Battery-Operated-Charger/dp/B0079GH6K0
Patriot PE2 Electric Fence Energizer Plus Fi-Shock 250-Feet 17 Gauge Spool Aluminum Wire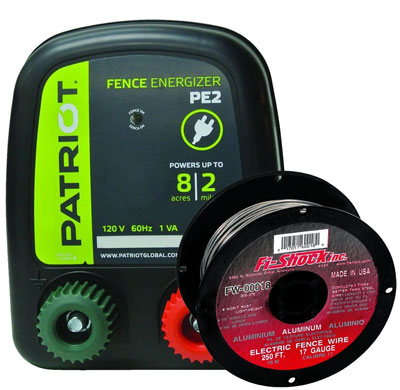 As a less expensive fence charger, Patriot PE2 fence energizer might be more suitable for fencing smaller areas.
Here are some of the features:
Power source: 110-volt AC plug in
Peak stored energy: 0.16J (max.)
Peak output energy: 0.1J (max.)
Distance range: 8 acres
Distance range: 2 miles
Fi-Shock breaking load: 90 lbs
PE2 output voltage: 2.8 kV @ 500 ohms, 5 kV (max.)
The product comes with a Quick Start Guide & Facts and Fi-Shock 17 Gauge aluminum wire (250ft).
This Patriot fence energizer could be found at Amazon through https://www.amazon.com/Electric-Energizer-Fi-Shock-250-Feet-Containing/dp/B00O76E0VS